Luxury Bedding
Luxury bedding that lets you choose the look and feel you want. Complete bedding collections for the luxurious, custom bedroom of your dreams. Duvet covers, pillow shams, bed skirts, sheets, cases and coverlets for a beautifully coordinated design statement. All in the best fabrics available, of course! Shop the luxury collection from Charisma or go directly down to Peacock Alley, Callisto Home Bedding, Pine Cone Hill, Ann Gish, Modern Bedding, Coyuchi, Designers Guild, Michael Aram
When Mary Ella Gabler founded Peacock Alley in 1973, she was one of the first in the industry to envision the bedroom as not just a place for sleeping, but also a peaceful, multi-purpose space for living and relaxing. With this in mind, each set of Peacock Alley bedding exudes a sense of calm and a classic personality, making the brand one of the most respected names in luxury linens for over 40 years
| | | |
| --- | --- | --- |
| | | |
| Peacock Alley Leopold Collection | Peacock Alley Angelina Collection | Peacock Alley Chloe Floral Collection |
| Duvet and shams of yarn dyed woven jacquard. Cotton sateen. Lightweight quilted coverlet and shams, good for all seasons. 300-thread count long staple cotton sateen shell. | Pique matelasse coverlet and shams with striped border. Egyptian cotton, with a mercerized finish for softness. Pique matelasse sham with striped border and script monogram. Egyptian cotton, with a mercerized finish for softness. Tailored dust skirt incorporates the striped design of the Angelina coverlet's border. Egyptian cotton, with a mercerized finish for softness. | Cotton sateen duvet and shams in floral pattern. Adorned with an overlock stitch detail in platinum thread. Long staple cotton percale. Peacock Alley Emma sheets. Cotton sateen. Majorca Throw, 50" x 70". Cotton knit throw. |
| | | |
| --- | --- | --- |
| | | |
| Peacock Alley Vienna Bedding | Peacock Alley Flora Collection | Peacock Alley Soprano Bedding |
| White cotton percale bedding with hand-embroidered leaf medallion design in tan. Matelasse bedding is Egyptian cotton. Boutique sheet set is 200-thread-count, long-staple combed cotton percale. Set includes flat and fitted sheets and two pillowcases. | Cotton duvet and shams in floral print. Solid cotton coverlet and shams in gray. | Egyptian-cotton sateen bedding accented with satin-stitched embroidery. 420-thread-count. Machine wash. Portugal |
| | | |
| --- | --- | --- |
| | | |
| Peacock Alley Veronica Bedding Collection | Peacock Alley Mandalay Cuff Bedding Collection | Peacock Alley Biagio Collection |
| Embrace a sense of glamour and mystery with the Veronica Collection from Peacock Alley. Crafted in luxurious cotton sateen, the warmth and charm of its delightful floral print appeals to a variety of aesthetics including classic, traditional or eclectic styling. | Introduce new elements of color and texture into your bedroom space with the Mandalay Cuff collection by Peacock Alley. Crafted from smooth long-staple cotton percale and accented with pure linen, each offering proves to be both versatile and beautiful. | Cotton plaid duvet cover and sham with flange. |
| | | |
| --- | --- | --- |
| | | |
| Callisto Home Imperia Bedding | Callisto Home Matera Bedding | Callisto Home Vernazza Bedding |
| Imperia bedding displays the crème de la crème of embroidered appliqué handiwork. All-cream collection is made of linen and rayon. Linen duvet covers have an appliquéd velvet medallion pattern | Hand-embroidered Matera bedding of linen/cotton. Beaded pillow has feather/down insert. Channel quilt of rayon velvet. | Vernazza bedding features a modernized Renaissance pattern. Handmade of cream linen. Hand embroidered. Linen dust skirt has split corners and a 20" drop. Decorative pillow has a feather/down insert. |
| | | |
| --- | --- | --- |
| | | |
| Pine Cone Hill Ines Collection | Pine Cone Hill Oiseaux and Pompom Moonstone Collections | Pine Cone Hill Jardin Collection |
| Linen duvet cover and shams with paisley digital print front. Solid linen back. Piped edge. 200 Thread-Count Embroidered Hem Sheet Set. Decorative pillows. "Patina" throw blanket in quilted velvet. Fully reversible linen throw, with the same pretty print on both sides and fringed ends. Washed and tumbled for sublime softness and drape. | Oiseaux Sateen Duvet Cover and shams in mixed bird pattern. 400-thread count cotton sateen. Pompom Moonstone Quilted coverlet and shams in cotton. Features tassel trim throughout. New double boudoir shaped pillow. Subtle metallics of rose gold, gold and silver hand embroidery with gimp passementerie adds shine and textural contrast to the natural taupe pinstripe ground. | Patterned duvet cover and shams. 400-thread count cotton. Quilted coverlet and shams in cotton. Patterned Jardin Sheet Set. 400-thread count cotton. Decorative pillows |
| | | |
| --- | --- | --- |
| | | |
| Pine Cone Hill Ines Linen Collection | Pine Cone Hill Sketch Jacquard Bedding Collection | Pine Cone Hill Quilted Silken Solid Bedding |
| Linen duvet cover and sham in watercolor paisley print. Cotton quilt. This gorgeous, substantial cotton sham is a rich accompaniment to any bed. Tone-on-tone topstitching. Dust skirt and sham made of linen with cotton lining. | Bicolored cotton woven in an abstracted print like sateen jacquard duvet cover. Tailored in Portugal with knife seams and hidden button closure, it's a key component in our Artisanal Collection. Our three-piece, tuck-in dust skirt in low pile velvet is edge tipped with silver sequins. Featuring no decking for an easy change out. Quilted for dramatic texture and lightweight seasonless comfort 400-thread count sateen weave Tencel Silken Solid bedding has a clean and modern aesthetic. Delectably soft and light, this wool-blend throw comes in lovely pale hues. Decorative pillows and shams | Quilted for dramatic texture and lightweight seasonless comfort 400-thread count sateen weave Tencel® Silken Solid bedding has a clean and modern aesthetic. Coordinates with our Artisanal Bedding Collection. |
| | |
| --- | --- |
| | |
| Pine Cone Hill Marianna Linen Collection | Pine Cone Hill Blossom Collection |
| This fabulous patchwork bedding represents a selection of vintage paste-resist indigo fabrics from South East Asia. Digitally printed on our best selling rustic linen to capture all the beauty and nuance of the original textiles, it is then washed and tumbled to sublime soft perfection. Seychelles Quilt. Cotton quilt and shams with tone-on-tone stitching. | Cotton percale duvet cover and sham with watercolor-inspired floral print. 400-thread-count. Cotton percale sheet set with watercolor-inspired floral print. 400-thread-count. Decorative pillows |
| | | |
| --- | --- | --- |
| | | |
| Pine Cone Hill Charlotte Floral Collection | Pine Cone Hill Ines Bedding | Pine Cone Hill Laundered Ruffle and Regina Matelasse Collections |
| Charlotte duvet cover and sham. Made of linen. Vienna Velvet Quilt and Sham feature black embroidery on gray velvet. | Ines bedding features a paisley print in shades of green, gray, teal, and plum. Made of linen with a piped edge. Machine wash. Savannah bedding in a tea stain hue is made of linen gauze with a cotton lining. Skirted coverlet has a 30" drop; shams are finished with a 4" ruffle. Machine wash. | Duvet cover and shams with laundered look and a crisp hand. Pre-washed 200-thread count cotton. Our matelassé, with subtle texture, vintage striping, and feminine ruffles, is woven in Portugal of stone-washed cotton. Laundered Ruffle Sheet Set. Pre-washed 200-thread count cotton has a laundered look and a crisp hand. |
| | | |
| --- | --- | --- |
| | | |
| Pine Cone Hill Mesh Linen & Cotton Bedspread | Pine Cone Hill "Savannah" Bed Linens | Pine Cone Hill Louisa Bedding |
| 4-ply mesh. Gathered skirt. Linen; cotton lining | What we love about "Savannah" is that these gauzy linens work with any style of bedding in any room. Go simple and romantic with minimal accessories, rev up the master bedroom's luxury with rich colors and textures, or add a cozy quilt and cheerful patterns to lend welcoming charm to the guest room | Louisa bed linens, dressed up with tiny tucks, embroidery, and 3" ruffles, come in your choice of white or ivory |
| | | |
| --- | --- | --- |
| | | |
| Pine Cone Hill Annette & Cameroon Bedding | Pine Cone Hill Anatolia Bedding | Pine Cone Hill Happy Fish Collection |
| Annette quilted paisley/floral linens and Camaroon striped linens feature patterns based on antique textiles; made of cotton. Fringed, laundered linen pillow and throw are enzyme-washed for softness with deep color | Anatolia bedding, made of linen, is printed with a kilim-inspired patchwork pattern in shades of terra cotta, java, brick, and blue. Kerala Spice cotton matelasse bedding with textural diamond pattern is made in Portugal. Machine wash. | The artful watercolor rendering of fish happily swimming among spires of coral on a soft white ground is digitally printed for superior reproduction. Cool, crisp cotton bedding coordinates with our C3 collection for a beautifully pulled together look. |
New York-based Ann Gish — a former interior designer who has lived in Southern California, France, England, and Barbados — introduced her signature line of bed linens in 1992. The Ann Gish bedding collection is known for exquisite detailing and construction along with luxurious fabrics such as silk
| | |
| --- | --- |
| | |
| Ann Gish Scroll Collection | Ann Gish Smokey Floral Collection |
| Duvet cover and sham with flange. Raffia Coverlet Set includes coverlet and sham. Throw blanket with finished edges. Decorative pillow | Floral bedding set includes duvet and sham. Raffia Coverlet Set includes coverlet and sham. Throw blanket with finished edges. Decorative pillow |
| | | |
| --- | --- | --- |
| | | |
| Home Treasures Triad Collection | Home Treasures Zebra Bedding | Home Treasures Marco Collection |
| Triad Duvet Set. 500-thread count Egyptian cotton percale woven in Italy. Trellis Coverlet Set. 300-thread count Egyptian cotton sateen woven in Italy. Triad Sheet Set. 500-thread count Egyptian cotton percale woven in Italy. Dust skirt is tailored, with three panels. 500-thread count Egyptian cotton percale woven in Italy. | Jacquard duvet cover and shams with subtle herringbone pattern. Italian linen. Isla Quilted coverlet and sham of 300-thread-count, Egyptian cotton sateen. Egyptian cotton sateen dust skirt with hemstitch finish. Avalon Flat Sheet, sham and cases with circular embroidery and hemstitch finish. 300-thread-count, Italian-woven Egyptian cotton sateen. | Duvet cover and sham of 300-thread-count Egyptian cotton sateen woven in Italy. Framed with double lines of satin stitching and a 2.5" applied border. Dust skirt with double lines of satin stitching and a 2.5" applied border. 300-thread-count Egyptian cotton sateen. Flat sheet and cases of 300-thread-count Egyptian cotton sateen woven in Italy. Accented with double lines of satin stitching and a 2.5" applied border. Quilted coverlet of 300-thread-count Egyptian cotton sateen woven in Italy. |
Rachel Ashwell Boho Bedding Collection
The Rachel Ashwell Boho Embroidered bedding collection is a shabby chic Bohemian dream come true. This beautifully embroidered duvet is crafted from 100% crisp white linen, and features a delicately embroidered white floral pattern on one side. Rachel Ashwell Westminster Sheets are made of lightweight, breathable 100% cotton poplin for refreshing repose. The set features a lovely classic yarn dyed stripe design inspired by vintage ticking fabrics. The traditional bedding staple is elevated with optional embroidered monogramming in several distinct styles for a personal touch.
| | |
| --- | --- |
| | |
| Michael Aram Orchid Collection | Michael Aram Branch Collection |
| Michael Aram summons the simple sensuality of the orchid and interprets it artfully into each textured and embroidered piece of this luxurious collection. | Michael Aram captures the magic of branch silhouettes against the evening sky with this collection, featuring graceful embroidery, softly textured stripes and lustrous cotton sateen. |
Coyuchi Pacific Grove Organic Cotton Collection
Coyuchi Monterey Organic Cotton Collection
Coyuchi Lost Coast Collection
Coyuchi Organic Cotton Lost Coast Bedding Collection
Intricate dobby weaving creates a unique combination of variegated stripes and honeycomb textured panels across this duvet cover from the Pacific Grove collection by Coyuchi. Yarn-dyed organic cotton ensures the color will stay true wash after wash, and the subtle highs and lows of the weave give it visual interest from every angle.
Inspired by the sparkling ripples and breaks along the Monterey coast, Coyuchi's bedding is loomed from soft, yarn-dyed organic cotton. Designed with a dobby-woven pattern of concentric diamonds, the duvet and shams feature a textural weave that makes it feel substantial but not heavy, for year-round comfort
Modern texture and a serene color palette give Coyuchi's Lost Coast Collection a luxurious-meets-lazy, Endless Summer beach house vibe. Diamond dobby stripes embellish Coyuchi's Lost Coast organic cotton duvet cover and shams for a pop of soft color and rich texture. Paired with crisp, 220-thread count organic cotton percale sheets and a stonewashed, lofty quilted coverlet and shams, this collection creates a plush, relaxing escape from the everyday.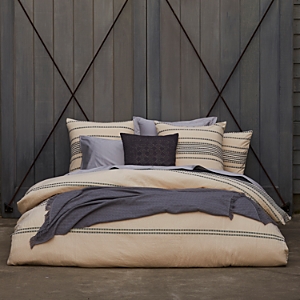 Coyuchi Organic Cotton Ivory Rippled Stripe Collection
Featuring a dobby-woven striped motif, the organic cotton Rippled Stripe collection from Coyuchi is pre-washed for a relaxed, invitingly cozy feel. Mix and match solid sateen and Watercolor Printed Dot sheets to complete the layered look.
Go to:
Add American-Luxury to your favorites