Luxury Blankets, Quilts and Throws
Luxury bedding, sheet sets and blankets. Go directly to: Designers Guild, Sofia Cashmere, Throws, Luxury Blankets, Coverlets, Quilts and Shams, Levtex Quilt Sets

Dramatically beautiful throws for every season.
| | | |
| --- | --- | --- |
| | | |
| Katan Fuchsia Throw | Moltrasio Tuberose Throw | Saraille Throw Blanket - 115X180cm |
| Wonderfully soft and warm, this stunning brushed mohair throw features a bold scale stripe with broad central over-check. Woven in rich tones of fuchsia pink, tangerine and alchemilla and finished with a fringed edge. Approx. 51" x 75". Wool/modal/nylon. | Wonderfully soft and lightweight, this stunning brushed mohair throw features a bold stripe with wide bands of color creating an off center grid pattern. In serene pale gray, apricot and lime tones, this delightful interior throw is finished with a fringed edge. Approx. 51" x 75". Mohair/wool/nylon. | Made of merino wool and polyamide. Approx. 71"L x 45"W x 0.3"T |
With over 60 years in the industry, Sofia Cashmere uses the finest cashmere yarns to create a comfortable feel. Featuring classic capes, shawls, and scarves, the luxurious collection is designed using the long, soft fibers to resist pilling, resulting in a long product life.
Throws add a comforting accent to any room.
| | | |
| --- | --- | --- |
| | | |
| Dkny Pure Chunky Knit Throw | Dyed Cashmere Throw Blanket | Savanna Wool Blend Throw Blanket |
| Dimensions: 50"L x 60"W. 100% cotton. Machine wash | Carefully crafted from so-soft cashmere, this throw offers a sumptuous treat for wrapping yourself or loved ones in during the holiday season and beyond. | This ultra-cozy blanket is crafted from boiled wool, which features a tight-knit fabrication and felt-like texture that's ideal for staying snug during the colder months. |
| | | |
| --- | --- | --- |
| | | |
| Tudor King Quilt | Donna Karan Essential Silk Quilt Collection | Lanai Pique Coverlet, Shams |
| Quilt made of silk satin with cotton backing. | Transform your bedding experience with the Donna Karan essential silk quilt. With a timeless design this quilt will translate well from season to season. If you dare to indulge, this silk quilt layers well with your Donna Karan bedding favorites. | White pique coverlet, shams finished with scalloped trim. Cotton/polyester. |
| | | |
| --- | --- | --- |
| | | |
| Ava Collection | Matouk Nadia Bedding Collection | Pearl Coverlet, Shams |
| Crafted in ultra-soft 600-thread count cotton sateen, this luxurious lofty Matouk bedding collection boasts quatrefoil stitching. Layer the quilt and shams with solid or printed sheets for a unique look with global flair | Simple and elegant, Matouk's Nadia collection features soft cotton matelasse with a subtle iridescent sheen, woven to create a contrast-stitch effect in diamonds. Pairs perfectly with fresh pillows and shams. | Featuring an all-over stitched pearl design, this luxurious Matouk collection is crafted in the finest quality matelassť made from soft Egyptian cotton. |
| | | |
| --- | --- | --- |
| | | |
| Elliot Bedding Collection | Matouk Selah Bedding Collection | Matteo Quilted Collection |
| A contemporary, luxurious statement in solid hues, the coverlet and shams of the Matouk Elliot collection feature a soft, pique texture. | Drawing inspiration from the beach, the Selah collection by Matouk is filled with beautifully basketwoven pieces that are ideal for layering or accenting a well-made bed. | Matouk's Matteo Quilted Collection exudes subtle sophistication in a seersucker that's reminiscent of menswear, while classic and durable cotton ensures seasonless comfort. |
| | | |
| --- | --- | --- |
| | | |
| Matouk Pacific Bedding Collection | Matouk Netto Quilted Collection | Matouk Alba Quilt Collection |
| Featuring a subtle pebbled texture, Matouk's Pacific bedding collection defines casual luxury. Stone-washed for softness, the cotton percale coverlet and shams layer easily with a duvet cover or crisp sheeting for lightweight warmth depending on the season. | A new twist on a traditional quilt pattern, the Matouk Netto Quilted collection boasts a design of paneled chevron rows. Crafted in sumptuous Giza Egyptian cotton sateen, the coverlet and shams layer perfectly with any bedding for a luxurious experience | With its delicate, small-scale pattern, the Alba collection adds textural appeal to any bed. Quilted on nocturne sateen, Alba's allover pattern is subtle, yet smart. Chic accent shams of cotton sateen are designed with an elegant flanged finish. |
Vera Wang Diamond Velvet Quilt Sets
Vera Wang Herringbone Stitch 3 Piece Quilt Set, Queen
Herringbone Stitch 3 Piece Quilt Set, King
Laos Lily Coverlet Bedding
Revel in the refined simplicity and sumptuous feel of the Vera Wang Diamond Velvet bedding set, featuring a minimalist take on a velvet quilt along with two matching shams. This lightweight yet luxuriously plush bedding looks elegant all year round.
Add sophistication and style to your bedroom with the Vera Wang Herringbone quilt set. Featuring a herringbone pattern, the beautiful quilt ensemble is the perfect expression of refined, modern elegance.
Classic and sophisticated coverlet in serene shades of white or gray. Horizontal quilting adds an air of refined elegance. This coverlet is accented with graceful stitched lilies and vines intertwined along the pieced border.
Perla White Quilt Set
Sherbourne King Quilt
Sherbourne Full/Queen Quilt
Perla Embroidered Quilt Set
Set includes: one quilt and two standard shams. Cotton.
The sherbourne reversible king quilt by levtex home is inspired by classic matelassť fabrics. Offered in, this design will immediately transform your bedroom. Made with the softest lightweight cotton, this reversible quilt features a cotton quilted in an intricate medallion pattern.
The sophisticated Levtex Home perla white quilt set is the perfect master bedroom addition. This elegant quilt set features a paisley stitching pattern in beige on a soft white ground.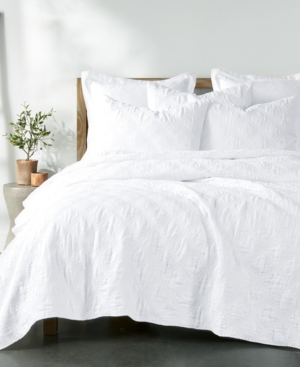 Washed Linen Collection
This bedding collection by Levtex home is made with the softest linen, and is pre-washed to give it a lived-in look. Among its many properties, linen is naturally temperature regulating.
| | |
| --- | --- |
| | |
| Cozy Blanket Collection | Open Stripe Blanket Collection |
| Add an extra layer of warmth to your home with the Vera Wang cozy blanket. Available in white and charcoal, this blanket is constructed with a cozy blend for the perfect touch of softness. | Add an extra layer of warmth to your bedding ensemble with the Vera Wang open stripe cotton blanket. This simple yet elegant solid blanket will bring gorgeous modern style to your bedroom decor. |
| | | |
| --- | --- | --- |
| | | |
| Peacock Alley Newport Blanket | Peacock Alley Riviera Blanket | Peacock Alley Alta Blanket |
| The all-new Newport is a 100% cotton textural woven blanket with a solid border for a tailored look. This lightweight blanket is great for warm climates or for those who sleep warm year round regardless of climate. | Developed with maximum comfort in mind, the Riviera blanket infuses old world charm with classic European hospitality. | Alta is a reversible blanket with a crafted whip-stitch, and is luxuriously soft with a combed finish. Having this blanket is like having two looks in one. Choose from our White blanket which reverses to a Linen-color or our Pearl Blanket that reverses to a Flint color. |
| | | |
| --- | --- | --- |
| | | |
| Matouk Dream Modal Blanket | Matouk Chatham Blanket | Matouk Sintra Blanket |
| Ultra-soft and cozy in a blend of modal and Supima cotton, this casual blanket by Matouk offers a casual look with an indulgent feel. | Crafted in soft, cozy cotton, this luxurious waffle-weave blanket by Matouk layers perfectly with a duvet for extra warmth. | Crafted from brushed Egyptian cotton, this ultra-soft and luxurious blanket by Matouk is warm and cozy on its own or layered beneath a duvet. |
Go to:
Add American-Luxury to your favorites