Contemporary American Fashion
American fashion when you're most yourself. Great pieces that work together to build or update your wardrobe for easy dressing options. Unscripted. Relaxed. Time for yourself. Time with friends. Go to: Holding Horses, Cloth and Stone, Dolan Left Coast, Harlyn
Dolan is the eponymous label of designer Jodie Dolan. Imbued with the laidback, effortlessly sexy vibe of her Los Angeles home base, Dolan's clothes are simple, original and confident.
With an appreciation for eras-old details, Holding Horses draws inspiration from vintage Americana: a cowboy's tooled and tanned saddle; the bright palette pops of blankets and ponchos; patinaed rivets, buckles and belts. At once rugged, adorned and practical, Holding Horses evokes an upscale-downhome feel with their slouchy leather bags, rough-and-tumble boots and made-to-last denim.
Easy to wear, easy to love is the motto of the line Cloth & Stone. Each denim or chambray piece begins with an effortless silhouette, before being imbued with personal touches such as specialty washes, rich textures and seasonal hues.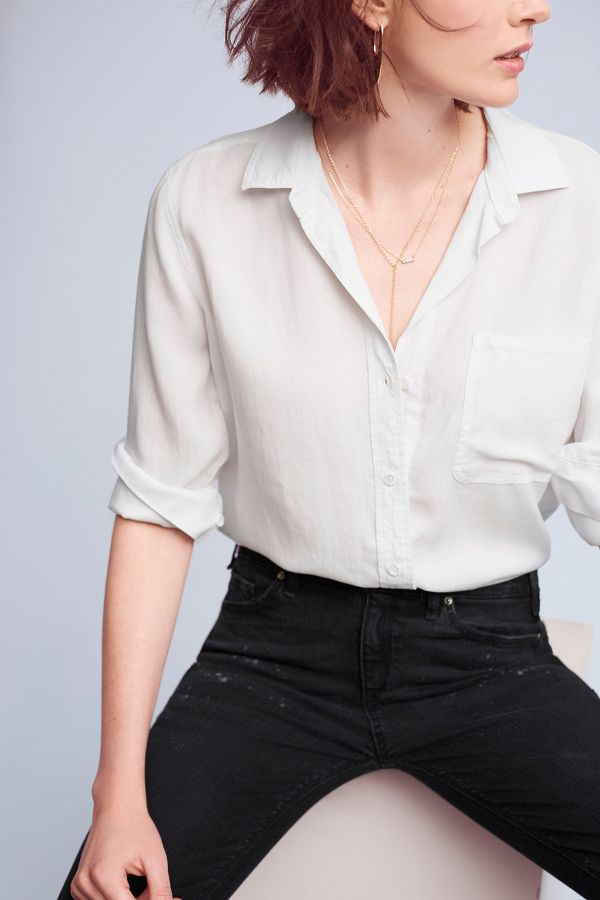 Frayed-Hem Buttondown
Turn a blind eye to boring basics and opt for this buttondown with raw edges. From Cloth & Stone.
With a soft spot for cult-classic movies, flea markets and the free-spirited dreamer, Harlyn designer Maria Stanley creates feminine pieces with a touch of quirkiness and an emphasis on unconventional patterns and silhouettes.
Go to:
Add American-Luxury to your favorites