Buffet and Casual Entertaining Serveware
Entertaining options have never been so beautiful. Whether you decide on a dressy luncheon buffet or a sit down dinner for 2 to 20, the right serveware will make the occasion memorable--and relaxed. Go to: Farmhouse Pottery. You may also want to visit seasonal entertaining serveware
Creative Casual Entertaining
| | | |
| --- | --- | --- |
| | | |
| Icy Blue Ceramic Serving Bowl, Small | Amber Lewis for Anthropologie Sawyer Serving Set | Gold Porcelain Bowl, Small |
| Hand-crafted from stoneware in an organic silhouette, this serving bowl is glazed in a gorgeous icy blue. | Designed by Amber Lewis in collaboration with Anthropologie, this beautifully handcrafted set lends a natural touch to serving salads, pastas, and home cooked entrees. | Perfectly sized for nuts, olives, dips, and beyond, this porcelain bowl arrives in a gorgeous gilded finish. Porcelain. Food safe. Dishwasher safe |
| | | |
| --- | --- | --- |
| | | |
| Brede Cruet | Gingham Serving Bowl, Scalloped | Eyelet Coaster |
| Believed to have been derived from the Old French word crue, meaning earthen pot, cruets are vessels used to hold liquid condiments - most commonly olive oil and vinegar. Here, they are rendered of stoneware in cheerful hues, lending an artistic touch to your table. | Guided by an ethos of environmental and cultural awareness, each of these color washed gingham serving bowls is shaped and glazed by hand in a South African design collective. Ceramic stoneware; food safe glaze. Hand-thrown, size and shape may vary slightly. Dishwasher and microwave safe | This charming coaster is a must-have for every coffee table or nightstand. Stone |
| | | |
| --- | --- | --- |
| | | |
| Marble + Glass Cake Cloche | Lilypad Platter | Lilypad Cake Stand |
| Put sweet, homemade treats on display inside this glass cloche with a polished, marble base. | The whimsical charm of this handcrafted stoneware collection will have you positively hopping to your table. | The whimsical charm of this handcrafted stoneware collection will have you positively hopping to your table. |
| | | |
| --- | --- | --- |
| | | |
| Orange Tray | Citrus Mango Wood Footed Bowl | Citrus Traditional Tray |
| Each piece comes to life through the work of Coton's design team in Tallahassee, Florida. Artfully designed products from start to finish to help inspire you to never miss an opportunity to celebrate every day. Handcrafted ceramic tray with orange motif. Approx. 6.25"L x 7.3"W. Dishwasher and microwave safe | Footed bowl made of mango wood. Approx. 12"Dia. | Hand sculpted and hand painted, this serving tray will inspire you to never miss an opportunity to celebrate every day. Made of ceramic. Approx. 8.25"L x 14"W. Dishwasher and microwave safe |
| | | |
| --- | --- | --- |
| | | |
| Gingham Serving Platter, Round | Footed Teak Serving Board | Herbiflora Cheese Knives, Set of 3 |
| Guided by an ethos of environmental and cultural awareness, each of these color washed gingham serving bowls is shaped and glazed by hand in a South African design collective. Ceramic stoneware; food safe glaze. Hand-thrown, size and shape may vary slightly. Dishwasher and microwave safe | Hand-carved from natural teak, this footed board elevates cheese, snacks, sweets, and more. | A charming gift for the hard-to-please hostess, this cheese knives set features handles crafted in the shape of our favorite herbs: Rosemary, thyme, and sage. |
| | | |
| --- | --- | --- |
| | | |
| Primavera Pasta Bowl | Farm To Table Platter - Asparagus | Arcadia Plates, Set of 4 |
| Handcrafted of cast iron and ceramic. Barboglio signed 13" coupe pasta bowl, resting in a gracefully forged iron base. Approx. 17"L x 17"W x 5"T | From the Rosanna Farm to Table Collection, this piece features illustrations of nature's bounty. Made of porcelain and stoneware. Comes in a gift box. Approx. 14"L x 7.8"W. Dishwasher and microwave safe | From the Rosanna Arcadia Collection, this set celebrates the beauty of the great outdoors. Made of porcelain. Comes in a gift box. Approx. 6"L x 6.0"W. Dishwasher and microwave safe |
| | | |
| --- | --- | --- |
| | | |
| LX Remix 4-Piece Tidbit Plate Set | LX Remix Assorted 4-Piece Accent Plate Set | LX Remix Blue 4-Piece Accent Plate Set |
| Bring a piece of Lenox history into your home with this 4-piece tidbit plate set from our LX remix collection. The top four patterns in our 130+ year history are represented on each piece. Made of porcelain. Dishwasher safe | We're beyond excited to unveil LX remix: a classic-meets-contemporary collection that's vintage Lenox with a twist. We're bringing back our past in vibrant fashion with bold colors mixed with our legendary patterns. These accent plates come in four assorted styles. Made of porcelain. Dishwasher safe | We're beyond excited to unveil LX remix: a classic-meets-contemporary collection that's vintage Lenox with a twist. We're bringing back our past in vibrant fashion with bold colors mixed with our legendary patterns. Made of porcelain. Dishwasher safe |
| | | |
| --- | --- | --- |
| | | |
| floral way 4-piece accent plate set | floral way hors d'oeuvre tray | Everly Cheese Knives, Set of 3 |
| When it's meal time, make sure that delicious spread you've prepared is served up right: this kate spade new york accent plate set, detailed with dots and flowers, will do just that. Made of porcelain. Approx. 9"W. Dishwasher and microwave safe | Detailed with dots and flowers, this kate spade new york hors d'oeuvre tray is ideal for serving up bite-sized snacks, be it pigs in a blanket or handmade sushi. Bonus: it's made of dishwasher-safe porcelain, so no extra scrubbing required. Approx. 13.5"L | A classic gift for the culinary aficionado in your life, these cheese knives add an elegant touch to any charcuterie board. Set of three. Stainless steel |
| | | |
| --- | --- | --- |
| | | |
| Glenna Cake Stand | Glenna Platter | Glenna Teapot, Sugar Pot, Creamer |
| Crafted in Italy and exclusively ours, a rustic, lightly weathered finish distinguishes this timeless serveware. | Crafted in Italy and exclusively ours, a rustic, lightly weathered finish distinguishes this timeless serveware. | Crafted in Italy and exclusively ours, a rustic, lightly weathered finish distinguishes this timeless serveware. Earthenware. Dishwasher and microwave safe |
| | | |
| --- | --- | --- |
| | | |
| Old Havana Serveware, Mint | Old Havana Serveware, Mint | Old Havana Serveware, Mint |
| Crafted in Portugal, this beautifully detailed stoneware is replete with a rich crackle glaze. Stoneware. Dishwasher safe | Crafted in Portugal, this beautifully detailed stoneware is replete with a rich crackle glaze. Stoneware. Dishwasher safe | Crafted in Portugal, this beautifully detailed stoneware is replete with a rich crackle glaze. Stoneware. Dishwasher safe |
Beatriz Ball Soho Brooklyn Long Rectangle Platter
Beatriz BallOrganic Pearl Nova Flirty Medium Bowl
Organic Pearl Small Salad Servers
Beatriz Ball Organic Pearl Nova Triangle Large Platter
A plentiful platter for your culinary delights. With a design as charming as its namesake, the SOHO Brooklyn rectangular platter is great for family gatherings. Pair with the SOHO Brooklyn large oval bowl for your accompanying salad. Handcrafted platter. 17"W x 8.5"D x 1.25"T. Aluminum.
The Beatriz Ball Organic Pearl Nova Flirty Medium Bowl works well with other Organic Pearl bowls and platters, and blends easily with more traditional styles. Distinguished by flirty curves, the bowl is a must-have size and shape for entertaining. Great for salads, sides, snacks, and more. Makes a unique gift for anyone on your list. Handcrafted bowl. 11.5"Dia. x 5"T. Aluminum.
This platter defies definition—sculptural by virtue of hand-casting, elegant with its beaded trim, organic in shape and texture, modern but not austere—a true transition piece that coordinates beautifully with all of our collections. Aluminum platter. 16.25"W x 13.5"D x 1"T.
| | | |
| --- | --- | --- |
| | | |
| Beatriz Ball Organic Pearl Sauce Bowl | Beatriz Ball Organic Pearl Nova Oval Small Tray | Beatriz Ball Organic Pearl Nova Double Dip Holder |
| The very definition of appealing, our Organic Pearl Sauce Bowl combines traditional design elements in new and unexpected ways. Made of decorative metal with the look of silver, it is great for serving sauces, gravies, hot dips, and salsas with characteristic Beatriz Ball panache. Aluminum sauce bowl. 7.75"W x 7"D x 3"T. | A beautiful backdrop for your culinary creations, the Beatriz Ball Organic Pearl Nova small decorative silver tray is versatile and good-looking. The Beatriz Ball Organic Pearl Nova small decorative metal tray features a flowing organic shape, handcrafted in gleaming aluminum goes from oven or refrigerator to the table, and keeps food hot or cold. Handcrafted tray. 17"W x 8.75"D x 1"T. Aluminum. | Split personality. When one dip just won't do, use the divided double dip bowl to bring complementary dishes together. Salsa and guacamole harmonize, green beans and roasted new potatoes come together. Aluminum dip bowl. 13"W x 9"D x 2.5"T. |
| | | |
| --- | --- | --- |
| | | |
| Vine Pitcher | Beatriz Ball Western Antler Long Cutting Board | Beatriz Ball Soho Spiral Dip Bowl |
| Each Michael Aram metal object undergoes a series of grinding, buffing and polishing techniques. Due to this handmade nature, no two pieces are ever exactly alike | Cutting board accented with antler-inspired handles. 22.25"L x 9"W x 2"T. FDA-safe aluminum alloy and polished wood. | Do the twist. Fashioned after a sea shell, the SOHO spiral dip bowl is sand blasted art at its finest. With its textured metal swirling around the indent for dipping, it makes an artistically stylish display. Handcrafted dip bowl. 12.25"W x 10"D x 2.75"T. Aluminum. |
Embracing American craftsmanship in an age of mechanization, Farmhouse Pottery thoughtfully creates farm-to-table pottery using traditional tools and techniques in their Vermont studio. Their collection reflects a strong commitment to heritage, quality, and beauty, as well as dedication to a more sustainable lifestyle.
| | | |
| --- | --- | --- |
| | | |
| Farmhouse Pottery Windrow Bowl | Farmhouse Pottery Hammered Pie Server | Farmhouse Pottery Pie Server |
| Designed with a flowing rim and an organic shape, this beautifully handcrafted bowl adds visual and textural interest to any kitchen or table. | A modern take on a kitchen classic, the hammered pie server is the perfect prelude to the sweet pie to come. This kitchen tool gives the user the ease of a thoughtfully designed pie server with the individuality of its hammered texture. The perfect combination of when craftsmanship meets artistry. | This pie server is handcrafted from maple wood, but also works beautifully as a cake server. the slightly curved tip of the server slides easily under the crust when serving, and the gently curved handle fits in the palm of your hand. With proper care and gentle oiling as needed, this server is sure to become one of your favorite kitchen utensils and can be passed down for generations. |
| | | |
| --- | --- | --- |
| | | |
| Farmhouse Pottery Classic Baker's Pie Dish | Farmhouse Pottery Artisan Forged Cheese Knife | Farmhouse Pottery Cheese Stone |
| Meet your new favorite pie dish! This Classic Baker's Pie Dish features a beautiful ruffled edge to help you craft the perfect crust for a beautiful presentation. Designed to absorb and retain heat evenly to ensure your pie is browned to perfection. Cleanup is a breeze with this dishwasher safe pie dish. Wheel thrown in Vermont. Durable American stoneware pottery. Oven, microwave, dishwasher safe. | This beautiful, hand-forged cheese knife set will be a conversation starter at your next gathering with its beautiful hammered metal and wood accents. The hammered blades are hand-forged from stainless steel. Given the handmade nature of the blades, each one has its own unique character, with no two pieces identical. The handles are hand-carved from sustainably harvested Beech wood, and sealed with a food safe sealant to protect the wood and its natural finish. | This versatile stone is perfect for serving cheese, dessert, pizza, appetizers, and more. Designed to distribute heat evenly, it can be warmed in the oven or cooled in the freezer. |
| | | |
| --- | --- | --- |
| | | |
| Farmhouse Pottery Grey Wooden Bowl | Farmhouse Pottery Yellowware Pitcher | Farmhouse Pottery Live Edge Walnut Boards |
| Decorate your kitchen or serve a fresh salad in this unique, down-to-earth bowl. Each piece is hand-carved from hearty New England Ash and finished in Farmhouse Pottery's Vermont workshop. | A modern take on an American classic. Each decorative white band is hand-painted by our master potters. Decorate your table with a bouquet of flowers or pour your favorite beverages with an authentic touch. | Organic and modern, this elegant piece is useful for cutting and serving. Designed for beautiful presentation, each board has its own unique wood grain and live edge. |
| | | |
| --- | --- | --- |
| | | |
| Farmhouse Pottery Wooden Bowl Set | Farmhouse Pottery White Wooden Bowl | Farmhouse Pottery Salad Servers |
| This set of four wooden bowls offer unique, tactile appeal and make a true farm-to-table statement. Each piece is hand-carved from hearty New England ash and finished in Farmhouse Pottery's Vermont workshop. | Decorate your kitchen or serve a fresh salad in this unique, down-to-earth bowl. Each piece is hand-carved from hearty New England Ash and finished in Farmhouse Pottery's Vermont workshop. | Toss and serve a refreshing harvest salad with these beautifully handcrafted salad servers. Turned from New England ash, this set brings a refined, organic feel to any table. |
| | | |
| --- | --- | --- |
| | | |
| Farmhouse Pottery Beehive Honey Pot and Wooden Dipper | Farmhouse Pottery Pantry Charcuterie & Serving Board | Farmhouse Pottery Olive Oil Bottle |
| Whether perched on a full breakfast table or paired with a warm cup of tea, this pretty little honey pot makes any kitchen a bit sweeter. Mix things up by adding a spoon and use this piece as a great addition to any serving spread. | This extra large wood board is inspired by antique French bread boards and handcrafted in Vermont from New England ash. The wood pieces of the board are interwoven and secured without the use of nails or screws, increasing the board's durability and to help prevent splitting. Perfect for charcuterie spreads, cheeses, pizza, and serving, or as a beautiful piece of French-inspired kitchen decor. | Classic in form and function, and crafted with a stainless-steel dispenser, this olive oil bottle is both useful by the cooking range and beautiful on the table. |
| | | |
| --- | --- | --- |
| | | |
| Farmhouse Pottery Farmer's Pitcher | Farmhouse Pottery Nutcracker | Farmhouse Pottery Silo Mug Gift Set |
| A staple for any farmhouse table, this pitcher's elegant shape makes it a charming way to display a bouquet of colorful flowers. With a hand-formed spout and sturdy handle, it's designed for easy pouring, making it a perfect vessel for iced tea, lemonade, and more. | This fun and practical nutcracker is a creative re-imagination of your typical nutcracker - simply insert the nut and twist to enjoy! This festive piece is a great addition to entertaining, as a gift for the host, or as a stocking stuffer. Crafted from beechwood and brass. | The perfect pair! This set is a useful, thoughtful gift for any engagement, wedding, or housewarming. Well-loved by all, these mugs are wheel-thrown in Vermont and crafted from durable American stoneware. |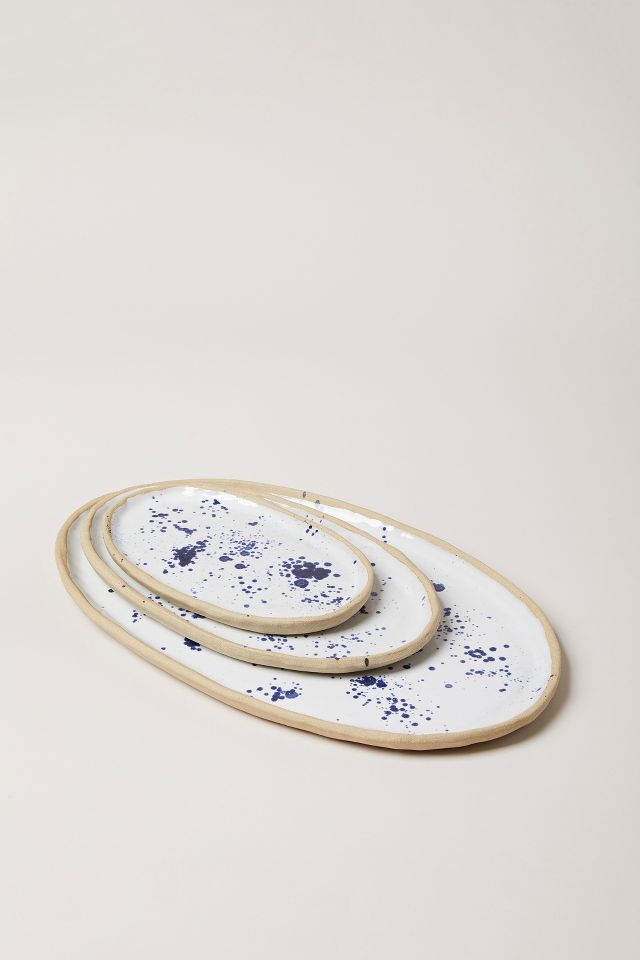 Farmhouse Pottery Spattered Platter
Serve cheese and crackers or your favorite appetizer on this unique platter – individually hand-painted by artisans, each is one-of-a-kind and lends a distinctly personal touch.
Go to:
Add American-Luxury to your favorites