Soft Dressing Options for Every Occasion
Relaxed dresses and skirts for your busy lifestyle. Special dresses that are event ready. The softer side of dressing. Go to: Hutch, Othilia, Not So Serious by Pallavi Mohan, Eva Franco, Love The Label, Cocktail Dresses, Relaxed Dresses
In 2010, New Yorker Daniel Soponaro launched Hutch, a contemporary womenswear brand recognized for garments that are equally easy and luxe. Emphasizing timeless sophistication over trend, the label's defined aesthetic showcases Soponaro's love of vibrant colors, conceptual prints and feminine tailoring in every made-for-you piece
| | | |
| --- | --- | --- |
| | | |
| Alston Eyelet Maxi Dress | Medley Blouse | Cordoba Colorblocked Maxi Dress |
| With a colorblocked skirt featuring the dreamiest of seasonal hues, this maxi dress is an instant wardrobe classic - just add slides for an effortlessly elegant finish. | Polyester | Inspired by the abstract, geometric work of Dutch painter Piet Mondrian, Yves St. Laurent introduced sartorial colorblocking with his iconic Mondrian Collection. Today, the trend extends beyond neutrals and primary colors to an infinite array of combinations - like the contrasting hues seen on this dress. |
| | | |
| --- | --- | --- |
| | | |
| Lala Leopard Wrap Maxi Dress | Medley Tiered Maxi Skirt | Reva Wrap Maxi Dress |
| Flouncy and fierce, this spotted maxi dress is a staple for the season - just add sandals and a go-to tote. | Adorned with a mélange of oh-so-vibrant fruits, this maxi skirt is sure to make a statement for any occasion. | Rendered in the season's most radiant hues, this maxi dress fuses vibrant florals with a stunning, time-tested silhouette - ensuring you'll turn heads at any occasion. |
| | | |
| --- | --- | --- |
| | | |
| Ondine Ruffled Maxi Dress | Sohla Wrap Maxi Dress | Dorri Buckle-Back Tank |
| Ruffled tiers and a mélange of decadent motifs infuse this dress with soirée-ready sophistication - style it with heels and a shimmery clutch to complete the look. | With its striking palm front motif, this wrap dress delivers a touch of the tropics to just about any occasion - style it with espadrilles for a sunny-day look you'll adore. | Cotton; polyester lining |
| | | |
| --- | --- | --- |
| | | |
| Biscayne Ruffle Wrap Dress | Hutch Alden Dress | Hutch Alden Dress |
| A bold abstract pattern, ruffle skirt, and sleeves with subtle volume make a perfect combination for this flattering wrap dress. | A bold abstract pattern and breezy wrap silhouette make this modern maxi dress effortlessly elegant. | A bold abstract pattern and breezy wrap silhouette make this modern maxi dress effortlessly elegant. |
| | | |
| --- | --- | --- |
| | | |
| Jenessa Polka Dot Mini Dress | Adelia Ruffled Midi Dress | Saskia Maxi Dress |
| A breezy silhouette and a preppy polka dot print make this dress a feminine essential. We love styling it with edgy accents - think chunky lace-up boots - to offset its oh-so-dainty motif. | Dainty ruffles and an eye-catching motif ensure this dress will make a statement as the weather warms - just add sandals or crisp white sneakers. | Adorned with springtime's most fabulous florals, this maxi dress delivers effortless sophistication when paired with strappy sandals or heels. |
| | | |
| --- | --- | --- |
| | | |
| Lysette Wrap Maxi Dress | Frutas Ruffled Maxi Dress | Donna Plaid Shirt Jacket |
| With its striking geometric print, this wrap dress is a wearable work of art - just add heels and a clutch for a sweetly spring-ready ensemble. | Adorned with a medley of fanciful fruits, this maxi dress calls to mind picnics in the park and sunny day strolls by the sea. | Front flap pockets and a sophisticated plaid motif make this cozy jacket a cool-weather essential. |
| | | |
| --- | --- | --- |
| | | |
| Hutch Biscayne Dress | Hutch Biscayne Dress | Hutch Alden Dress |
| A bold abstract pattern, ruffle skirt, and sleeves with subtle volume make a perfect combination for this flattering wrap dress. | A bold abstract pattern, ruffle skirt, and sleeves with subtle volume make a perfect combination for this flattering wrap dress. | A bold abstract pattern and breezy wrap silhouette make this modern maxi dress effortlessly elegant. |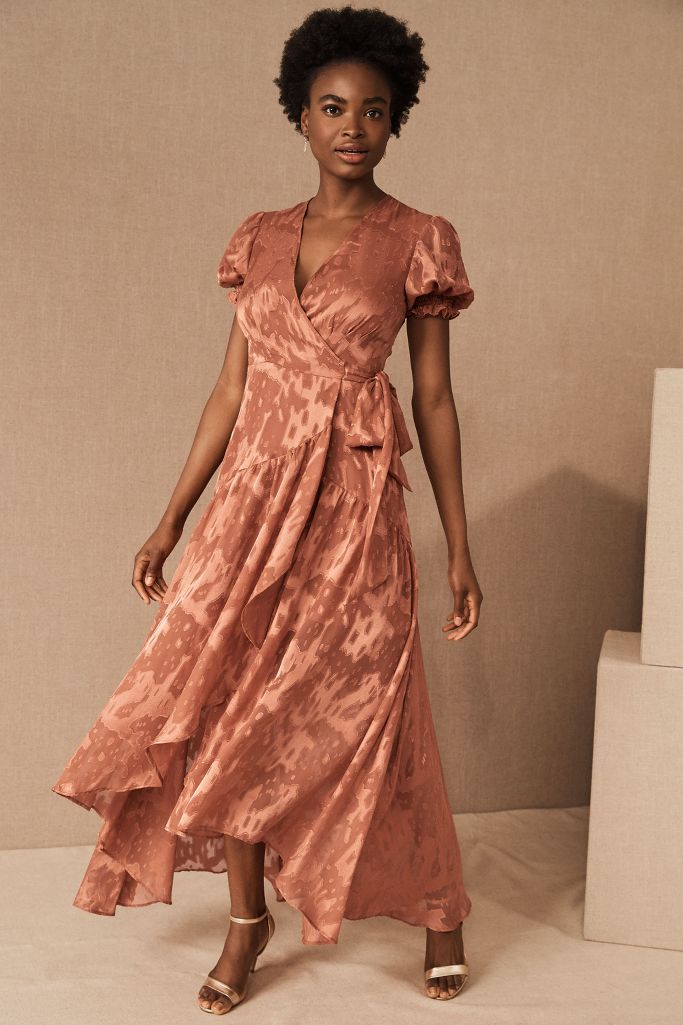 Hutch Biscayne Dress
A bold abstract pattern, ruffle skirt, and sleeves with subtle volume make a perfect combination for this flattering wrap dress.
The Germanic name Othilia derives from terms meaning "prosperity" and "ancestral homeland." Drawing inspiration from these etymological roots, the Othilia collection features dresses and separates, each crafted with meticulous attention to detail - think pintucked flourishes, artisanal prints, and intricate eyelet lace.
| | | |
| --- | --- | --- |
| | | |
| Othilia Desdemona Mini Dress | Othilia Paulina Tiered Midi Skirt | Othilia Cressida Ruffled Blouse |
| Puffed sleeves and a sweetly tiered silhouette infuse this mini dress with feminine flair - style it with ankle boots for an ensemble that's sure to earn you compliments. | The epitome of springtime sophistication, this midi skirt's fresh-picked floral motif is a must-have for sunny day strolls. | Style this ruffled blouse with slim jeans and sandals to let its dreamy details shine. |
| | | |
| --- | --- | --- |
| | | |
| Othilia Hestia Pintucked Blouse | Othilia Laura Peasant Blouse | Othilia Dessa Ruffled Mini Dress |
| Featuring pintucked touches for an elevated flourish, this blouse makes a romantic match for high-rise denim and slides. | With a contrast-printed bib and sweetly puffed sleeves, this peasant blouse is a charming match for denim shorts or skinny jeans. | Ruffled touches at the neck and sleeves infuse this mini dress with feminine flair - style it with ankle boots for a charming ensemble that's sure to earn you compliments. |
| | | |
| --- | --- | --- |
| | | |
| Othilia Aleksia Ruffled Maxi Dress | Othilia Ginevra Ruffled Mini Dress | Othilia Portia Eyelet Pullover |
| With ruffled touches and a striking seasonal motif, this maxi dress delivers drama and sophistication in one easygoing fit. | With ruffled trim and a flouncy silhouette, this dreamy mini dress calls to mind sunny strolls and springtime celebrations in the garden. | Dainty ruffled details and touches of eyelet lace infuse this layer with wear-anywhere elegance - pair it with slim jeans and sandals for an effortlessly chic look. |
| | |
| --- | --- |
| | |
| Othilia Melody Eyelet Blouse | Othilia Federica Ruffled Blouse |
| Ruffled trim and a dainty dash of eyelet lace make this blouse a romantic staple - offset its feminine details with your favorite distressed jeans and slides. | Decadent ruffles, embroidered touches, and a sweetly ruffled bib make this blouse an instant wardrobe classic - style it with slim jeans and sandals to let its dreamy details shine. |
A graduate from University of the Arts London, Pallavi Mohan launched her label Not So Serious in 2007, beautifully merging western sensibilities with Indian ethos. From ready-to-wear apparel to haute couture gowns, Not So Serious delivers artfully crafted clothing that's dreamy and playful in nature.
| | | |
| --- | --- | --- |
| | | |
| Donna Lace Blouse | Behati Mini Dress | Priya Quilted Shirt Jacket |
| Polyester | This statement-making number features striking dye techniques and gleaming metallic accents at the bodice, resulting in a look of unsurpassed elegance and poise. | An elevated take on the classic shirt jacket, this quilted layer features a patchwork floral motif that makes it a cozy and sweet complement to everyday denim. |
After immigrating to the United States, Hungarian designer Eva Franco embraced fashion as the bridge to understanding her American peers. Having studied in New York and Paris, Franco moved to Los Angeles, where she began designing her own clothes and selling them at a local flea market. Today, Eva Franco is still based in LA, where each of her exquisite silhouettes is meticulously crafted to celebrate contemporary femininity.
| | | |
| --- | --- | --- |
| | | |
| Adela Skirt Set | Eva Franco Textured Shorts | Eva Franco Cassis Maxi Dress |
| From work-at-home days to weekend adventures, this printed skirt set will keep you effortlessly comfy and chic. | Pair these playful shorts with a graphic tee and sandals for a springtime ensemble you'll want to wear on repeat. | Featuring dreamy polka dots in a brilliant golden hue, this flowing maxi dress calls to mind picnics by the sea and aperitifs al fresco. |
| | | |
| --- | --- | --- |
| | | |
| Eva Franco Gianna Feathered Pant Set | Lobster Skirt Set | Donnie Skirt Set |
| With feathered trim and an eye-catching spotted motif, this set infuses your closet with head-to-toe sophistication. | Pinch us, we're dreaming! This charming skirt set features a colorful lobster motif that's shore to make heads turn. | Stylish and sweet, this matching crop top and skirt set is proof the best things come in twos. |
| | | |
| --- | --- | --- |
| | | |
| Kym Flounced Midi Skirt | Fresas Tiered Midi Skirt | Lynsey Gingham Maxi Skirt |
| With a vibrantly hued finish, this flounced midi skirt is perfect for all-season styling. | Adorned with a playful strawberry print, this midi skirt lends unsurpassed whimsy to all your springtime looks. | Featuring all over-gingham with a striking, two-toned effect, this maxi skirt is a pick that's as spring-ready as it is sweet. |
| | | |
| --- | --- | --- |
| | | |
| Rockabilly Plaid Pants | Edita Sequined Tulle Maxi Skirt | Saba Cropped Wide-Leg Pants |
| Make a style statement this season with a pair of eye-catching trousers - the striking plaid motif seen here lends color and joy to just about any ensemble. | This New Year's Eve, we're pairing cozy with sparkle, and comfy with shine. Featuring sequins, and fabulously flouncy tulle, this maxi skirt delivers dazzle for all your seasonal occasions. | Cotton, spandex |
Designed for the wanderlust-inspired woman, Love The Label crafts spirited, elegant pieces with an emphasis on craftsmanship and charm. From dainty embellishments to vintage-inspired prints, the collection fuses old-world aesthetics with a thoroughly modern twist.
| | | |
| --- | --- | --- |
| | | |
| Caroline Tiered Maxi Dress | Tessanne Floral Wide-Leg Jumpsuit | Petra Mini Dress |
| Embrace the return of sunnier skies with this striking maxi dress - its colorful tiers and floral bouquets are sure to bring a smile to all you meet. Best of all? It makes a lovely match for your favorite strappy sandals. | Stunning florals and a wide-leg silhouette make this one-piece wonder a staple for springtime occasions. | Delightfully polished, this mini dress brings an elevated touch to your springtime routine. |
| | | |
| --- | --- | --- |
| | | |
| Petaluma Sequin Dress | Petaluma Sequin Dress | Payal Jain Porter Dress |
| Coated in crystals, sequins, and intricate beading, this knee-length dress offers a modest design for moms and guests. | Coated in crystals, sequins, and intricate beading, this knee-length dress offers a modest design for moms and guests. | Lush botanical embroidery brings striking texture to this bohemian maxi dress with a plunging halter neckline and airy open back. |
| | | |
| --- | --- | --- |
| | | |
| Janine Lecour Addison Tiered Tunic Dress | Louella Maxi Dress | Lala Tiered Mini Dress |
| Swingy and sweet, this tiered tunic dress - designed by Janine Lecour in collaboration with Anthropologie - is perfect for casual weekends and evenings at home. | With an oh-so-comfy knit finish, this maxi dress promises endless comfort and sophistication - no matter how you style it. | Feminine and oh-so-sweet, this mini dress is a lovely match for crisp white sneakers or your favorite flats. |
| | | |
| --- | --- | --- |
| | | |
| Esperanza Embroidered Maxi Dress | Lenore Maxi Dress | Laurence Crochet Sweater Set |
| Feel the sunshine on your skin in this artfully embroidered dress, where earthy hues and a sweeping silhouette impart an air of easy-breezy sophistication. | With a sweeping silhouette and a striking floral motif, this maxi dress delivers drama and sophistication in one easygoing fit. | A crochet finish lends this sweater set a sweetly artisanal touch. |
| | | |
| --- | --- | --- |
| | | |
| Cerys Halter Midi Dress | Meredith Organza Maxi Skirt | Caton Dress |
| This striking, monochromatic dress delivers sweetness and sophistication in one oh-so-feminine fit. | Viscose | Slip into this showstopping mini for a bridal look fit for any occasion! Wrap details couple with a sweetheart neckline for a romantic touch while flowy sleeves add movement. |
| | | |
| --- | --- | --- |
| | | |
| Natalia Dress | Birdsong Seamed Dress | Davina Dress |
| A beyond-beautiful floral print puts this flowy midi at the top of our "Want/Need" list. Fashioned with a floaty drape, 3/4 length raglan sleeves, a split neckline, and smocking at the center waist for a lusciously comfortable fit. Longer sides. Lined body. | Effortless chic in a fit-and-flare jersey dress shaped by expert seaming. Stitched-down pleats below waist create fullness toward hem. V-neck, with 3/4 sleeves. | Generously styled with a soft knit top and a woven layered skirt accented with angled seams and a pocket on the right hip. Short sleeves, scoop neck, just perfect. Bay leaf, marine green, white. Cotton/spandex bodice, linen/rayon/spandex skirt. White has a cotton lining. |
| | | |
| --- | --- | --- |
| | | |
| Lark Maxi Dress | Bijou Dress | Maise Dress |
| A thoroughly modern take on the maxi dress. Softly shirred woven skirt attaches to the jersey-knit, short-sleeve body via a stylish diagonal seam. | The requisite little black dress, with some flounce factor (at hem) and ruching (at side waist). The sleeveless jersey-knit design has a high neck made to showcase jewelry. | Welcome the sunshine with this friendly maxi of soft woven challis. To give it causal charm, we styled it with smocking on the upper back, a square neckline, short fluttery sleeves, and easy on-seam pockets. |
| | | |
| --- | --- | --- |
| | | |
| Provincia Dress | Frangipani Dress | Santa Caterina Dress |
| A standout crepe shirtdress with sweeping A-line skirt and asymmetrical hem. Hidden top placket; 3/4 tie sleeves. | The sheer silk overlay is enhanced with leaf-and-vine embroidery, while the creamy-soft underlayer lends a peaceful shade of blue. | With inkblot symmetry, a richly exotic georgette sheath with dramatic bell sleeves, V-neck, smocking at center back and body-lining. |
| | | |
| --- | --- | --- |
| | | |
| Pink Palace Dress | Buttercup Dress | Lisabetta Velvet Dress |
| Woven challis sets the stage for this unique maxi with tassels, embroidery, and beading. Mother-of-pearl buttons on the partial placket, and side slits for a graceful flow. | Lift your springtime look with this mood-boosting maxi, embellished with sunny embroidery on light breezy cotton. Button front, puff sleeves, shaping darts, lined body. | Velvet adds an extra dimension of luxe to this sumptuous midi created with angled pleats on the right for shaping. Long set-in sleeves, bateau neckline. |
| | | |
| --- | --- | --- |
| | | |
| Rue Jussieu Dress | Cadenza Dress | Mosaic Dress |
| Equal parts casual and polished, this lovely dress has yarn-dyed stripes, flutter-cuff 3/4 sleeves, flowy front pleat, and a chic split neck with contrasting inset. Lined body, side-seam pockets, bust darts. | For parties, gatherings or date night - we love the look of this fit-and-flare dress that wows with rich embroidery, shaping darts, and a floaty layer over a creamy-soft lining. | A mood of mystery and magic infuses this crinkle chiffon maxi, with beaded, embroidered V-neck yoke, braid-trimmed blouson sleeves, shirred long ruffle hem, and body-lining. |
| | | |
| --- | --- | --- |
| | | |
| Savoir Dress | Newbury Dress | Marchesa Dress |
| Our vision of spring, in full bloom. This mid-length, short-sleeve knit dress features a V-neck contrast twist detail at front and waist seam at back. | The A-line maxi, effortless yet polished. Angled waist seam, directional rib knit, soft jersey lining. Misses 53" long. | Ease and comfort in a carefree popover dress styled with pintucks down the front. Raw edge detail at neck. |
| | | |
| --- | --- | --- |
| | | |
| Night Bloom Dress | Artemis Dress | Paradise Island Dress |
| Three floral prints are married together in shirred tiers of crinkle gauze for an easy-breezy casual vibe. Accented with slim pintucks at the bodice, keyhole closure in back, bust darts, and fun seam details. | Fluid and ethereal, this flowing maxi sheath of crinkle chiffon silk is smocked all around, with a jersey-knit underlayer. Long raglan sleeves. | A shirred knot emphasizes the waist, while the scene-stealing tropical print completely wows. |
| | | |
| --- | --- | --- |
| | | |
| Bellarose Dress | Coco de Mer Dress | Andalou Dress |
| Eyelet piecing adds femininity to this voile maxi cut in a full circle with three tiers. Split neck with tassel tie, luxe embroidery. | A blend of soutache detailing and airy yarn-dyed stripes, finessed with embroidered 3/4 sleeves, side slits, and a knit slip to wear beneath. | Our layered jersey-knit dress breezes beautifully into your wardrobe with its drapey chiffon overlay, raglan 3/4 sleeves and angular hem. Misses 38"/51" long. |
| | | |
| --- | --- | --- |
| | | |
| Francisco Dress | Ryley Dress | San Remo Dress |
| Sweet blossoms swing on a trio of cotton voile tiers, with short sleeves, scoop neck, and a band of solid contrast trim at the hem. | Hello slimming slanted stripes. This maxi of soft ribbed knit is cut with diagonal seaming and multi-directional stripes for a casual, confident look. Misses 54-1/2" long. | Flourishes of embroidery in sunbaked colors channel the Italian Riviera in a maxi with princess seams for shaping, 3/4 sleeves and button-and-loop closure. Misses 54" long. |
Go to:
Add American-Luxury to your favorites