Relaxed Dresses, Tops and Skirts
Relaxed dresses and skirts for your busy lifestyle. The softer side of dressing. Go to: ML Monique Lhuillier, Gal Meets Glam, Kachel, Sahil Kochhar, Yumi Kim, Corey Lynn Calter, Byron Lars, Bailey 44, Tiny
From ready-to-wear to bridal, each sophisticated collection from Monique Lhuillier is even more exquisite than the last. The designer's exceptional ability to blend classic femininity with contemporary trends is unparalleled in the fashion world. Lhuillier now brings this same sensibility to her accessories and home goods, transforming into a luxurious and complete lifestyle brand.
Founder of the popular blog Gal Meets Glam, Julia Engel has always had a penchant for dresses - so much so that, to the delight of fashionistas and followers, she was inspired to launch her own exclusive collection. From soft pastel hues to fun florals to playful bows, her designs are decidedly, unabashedly femme. The fit-and-flared silhouettes are inspired by the styles of the 1940s and '50s, lending a timeless sophistication - and a touch of vintage-inspired chic - to each occasion-ready piece.
| | | |
| --- | --- | --- |
| | | |
| Sawyer Poplin Jumpsuit | Dawn Windowpane Shirtdress | Elisabetta Dress |
| Perfectly easygoing and lightweight, this poplin jumpsuit is a weekend essential that's tailored enough for workweek wear. | The windowpane print - a warm-weather analogue of plaid - on this shirtdress makes it a timeless piece for both work and weekend. | This crisp cotton dress features a criss-cross bodice and pointed collar; it's finished with a feminine bow at the back. |
| | |
| --- | --- |
| | |
| Mariella Belted Dress | Poppy Plaid Shirtdress |
| The partially sheer sleeves on this belted dress offer an alluring, yet perfectly demure statement. | Stylish, versatile, and oh-so-comfortable, this plaid shirtdress is the definition of a warm-weather staple. |
Vintage prints and watercolors inspire designer Jana Kachel to create a collection of unique, versatile pieces that will easily take their wearers from day to night.
| | | |
| --- | --- | --- |
| | | |
| Mosaic Silk Blouse | Lydia Leopard Silk Slip Dress | Greer Kimono |
| Whether worn under a polished blazer or with your favorite distressed denim, this silk blouse is a versatile piece for your wardrobe. | Our forever favorite, the slip dress is rendered here in a classic leopard print with a bias cut that is oh-so-flattering. | Rayon |
Designer Sahil Kochhar creates contemporary women's clothing for women inspired by the traditional Indian colors, fabrics, and embroidery techniques. From structured blouses to delicate dresses and skirts, each piece is feminine, artistic, and classic - with a dash of the unconventional and a touch of the unexpected.
| | | |
| --- | --- | --- |
| | | |
| Palm Tree Skirt | Koyal Floral Skirt | Sahara Floral Dress |
| This spring, swap your florals for palm trees via this midi skirt - it styles well with structured buttondowns and relaxed tees alike. | Finished with appliqué, the floral print on this midi skirt comes to life in a three-dimensional way. | With a flattering peplum ruffle at your natural waist, this midweight dress features hand-embroidered florals - its the perfect way to welcome the new season. |
After a brief stint in the music industry, designer Kim Phan returned to fashion in 2004 with the launch of Yumi Kim. With a focus on prints and silk, the line - which borrows its first name from Kim's pet Yorkie - is inspired by vintage silhouettes and city living
| | | |
| --- | --- | --- |
| | | |
| Yumi Kim Titania Silk Wrap Dress | Yumi Kim Hydrangea Wrap Dress | Yumi Kim Lotus Romper |
| A printed wrap dress is the ultimate day-to-evening piece - swap out flats for barely-there heels to achieve a more elevated effect. | Break out the sunny florals - spring is here! In soft, cheery hues, this wrap dress is perfect for your warm-weather special occasions. | With the comfort of shorts and the styling ease of a dress, this floral-printed romper makes an unexpectedly elegant statement for any occasion. |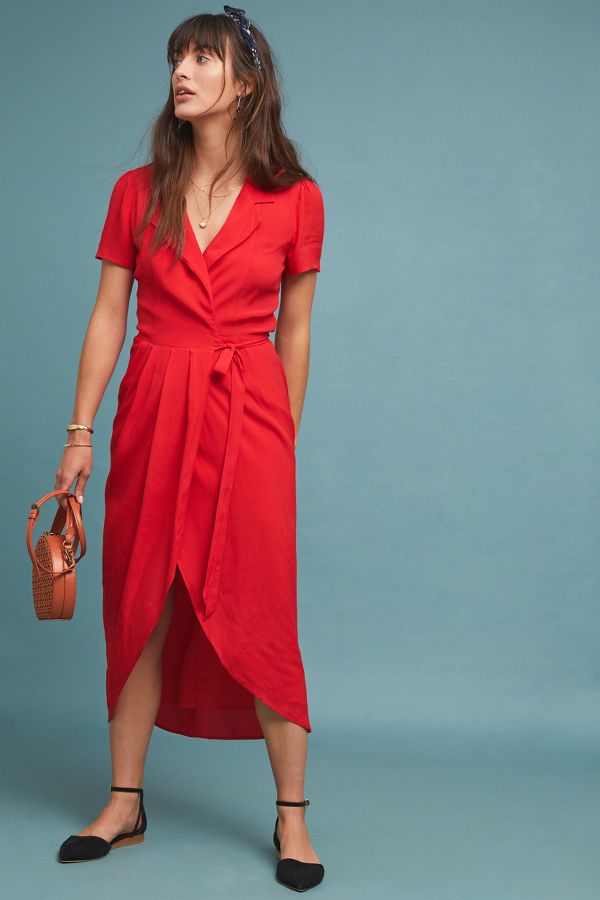 Yumi Kim Judith Wrap Dress
From the strictly corporate to the casual, work-from-home environment, office attire shouldn't lack personality or flair. This bold red dress has both to spare - it dissolves the distinction between what you have to wear and what you want to wear, allowing you to focus on meeting deadlines and acing presentations without once worrying about your outfit.
With experience gained in opera houses, Broadway shows and New York's punk scene, Corey Lynn Calter's eponymous line is defined by original prints, flattering cuts and punchy hues that are inspired by her vast and varied background.
| | | |
| --- | --- | --- |
| | | |
| Corey Lynn Calter Giverny Blouse | Corey Lynn Calter Sabriel Blouse | Corey Lynn Calter Knot Skirt |
| Forego the expected frock for tailored trousers and a statement top, like the embroidered blouse seen here. Equally as festive, an occasion top is a versatile piece you'll wear again and again. | Cupro is the best of both worlds: It has the breathability of cotton with a soft, silk-like feel. Draping elegantly, the material makes this blouse elegant enough to transition from desk to dinner with ease. | Bring the fun back into office attire with this skirt - its cheerful print will keep you smiling (and earn you compliments) from the time you clock in to the end of your day. |
| | | |
| --- | --- | --- |
| | | |
| Corey Lynn Calter Poplin Top | Corey Lynn Calter Fosteriana Cami | Corey Lynn Calter Fosteriana Skirt |
| Reimagining the classic poplin blouse, this fitted version is tied in the front - complete the look with your favorite jeans or trousers and an understated pair of hoops. | Whether you style with its matching skirt or with your favorite denim, this peplum cami makes a stunning statement. | Whether you style with its matching cami or with your favorite cotton tee, this tulip-printed skirt makes a stunning statement. |
Designed exclusively by and for women, Bailey 44 is a collection of essentials for the modern fashionista. Always made from breathable, lightweight fabrics, Bailey 44 designs are fresh and effortlessly versatile. Each flattering dress, feminine top and tailored pant is meant to go wherever you do – from work to the weekend and beyond.
A San Francisco native who earned insta-praise and was lauded as Women's Wear Daily's Rookie of the Year for his first collection, Byron Lars specializes in expertly structured, sensuously cut silhouettes.
| | | |
| --- | --- | --- |
| | | |
| Byron Lars Pastel Blouse | Byron Lars Monet Blouse | Byron Lars Laser-Cut Blouse |
| For the next occasion on the calendar, swap out your LBD for a duo of elevated separates. Whether you top tailored trousers or tuck into a full A-line skirt, this blouse is a stunning piece no matter how you style it. | For the next occasion on the calendar, swap out your LBD for a duo of elevated separates. Whether you top tailored trousers or a fitted pencil skirt, this blouse is a stunning piece no matter how you style it. | For the next occasion on the calendar, swap out your LBD for a duo of elevated separates. Whether you top tailored trousers or a full A-line skirt, this blouse is a stunning piece no matter how you style it. |
| | | |
| --- | --- | --- |
| | | |
| Byron Lars Sunset Top | Byron Lars Floral Midi Skirt | Bryon Lars Achelois Blouse |
| The muted colors of this sheer top offer a softer take on summer's dusky hues. | With a delicate lace panel that wraps around, this occasion-worthy skirt feels decidedly feminine. | For the next occasion on the calendar, swap out your LBD for a duo of elevated separates. Whether you top tailored trousers or tuck into a full A-line skirt, this blouse is a stunning piece no matter how you style it. |
| | | |
| --- | --- | --- |
| | | |
| Byron Lars Carissima Sheath Dress | Byron Lars Carissima Sheath Dress | Byron Lars Carissima Sheath Dress |
| We're so smitten with this column dress - the lace and appliquéd flowers make it a perfect piece for every occasion. Add strappy, sparkly sandals for an event-ready look. | We're so smitten with this column dress - the lace and appliquéd flowers make it a perfect piece for every occasion. Add strappy, sparkly sandals for an event-ready look. | We're so smitten with this column dress - the lace and appliquéd flowers make it a perfect piece for every occasion. Add strappy, sparkly sandals for an event-ready look. |
| | | |
| --- | --- | --- |
| | | |
| Julia Embroidered Top | Calais Top | Begonia Blouse |
| 65% polyester, 35% rayon; 100% polyester | Get ready for spring days by trading in your basic tees for one flourished in florals. | From its floral print to the lace trim and silky ribbon tie, this blouse adds a romantic touch to your seasonal style. |
| | | |
| --- | --- | --- |
| | | |
| Death Valley Graphic Tee | Pippa Top | Isla Vista Top |
| From departure to destination, you'll be reaching for this graphic tee. Tuck it into a skirt, wear it under a blazer, or keep things casual with your favorite jeans - it looks effortlessly cool no matter how you style it. | 95% rayon, 5% spandex, 100% polyester contrast | 100% rayon |
Go to:
Add American-Luxury to your favorites