Hotel Style Sheets, Coverlets, Blankets and Throws
Hotel sheets. Hotels and resorts pamper you with some of the best sheets and bedding available. Now you can bring that luxury home. Go to: Egyptian Cotton Sheets, Sferra Luxury Bed Linens, Frette Sheet Sets, Hotel Style Sheets, Brielle Sheet Sets, Quilts and Coverlets, Blankets, Throws and Decorative Pillows, Bedskirts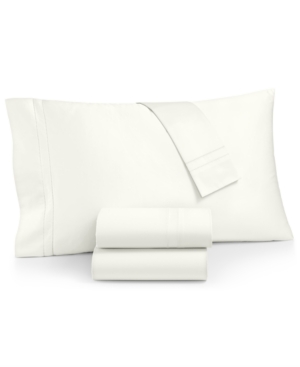 Hotel Collection Classic Egyptian Cotton Sheet Set
Spun with the finest long staple Egyptian Cotton, Hotel's Classic sheet set is exquisitely luxurious with a soft and sumptuous feel. These sheets feature a delicate double hemstitch for a more elegant bedroom decor. Fabric: 100% Egyptian Cotton. Thread Count: 400. Features a double hemstitch on flat sheets and pillowcases
Hotel style bedding in luxurious fabrics is an uncomplicated and elegant choice.
| | | |
| --- | --- | --- |
| | | |
| Hotel Collection 1000 Thread Count Bedding Collection | Hotel Collection 525 Thread Count Cotton Sheet Set | Hotel Collection 500 Thread Count MicroCotton Sheet Set |
| Our 1000 thread count bedding is made of American-grown Supima cotton, and is silky soft to the touch. This bedding is expertly woven for a luxuriously soft and rich drape. The double baratta detailing at the hem adds a hint of tailoring to the collection. | Hotel Collection's 525 thread count is woven into a sateen construction from 100% cotton, creating a soft and comfortable bedroom staple. This is the perfect bedroom edition for the customer looking to step into luxury. | Slip into a great night's sleep with the new 500TC MicroCotton Sheet Set from Hotel Collection. Constructed with a sateen weave, super fine yarns and ultra-soft 100% long-staple MicroCotton to create a luxurious bedroom staple. This sheet set resists wrinkles wash after wash for longevity and effortless comfort. Outfitted with stretch-elastic for extra grip, our fitted sheet hugs your mattress ensuring your sheet stays in place throughout the night. Available in a palette of versatile, cooling neutrals to easily match back to your bedroom décor, the flat sheet and pillowcase also feature a decorative embroidered hem for a touch of sophistication. |
| | | |
| --- | --- | --- |
| | | |
| Hotel Collection Classic Serena Sheet Set | Hotel Collection Classic Embossed Jacquard Sheet Set | Organic Cotton Dobby Sheet Sets |
| Serena features a beautiful, seasonless floral. There is a barrata flange embroidery for a finished edge. This is 400 thread-count pima cotton, wrinkle resistance, super soft handfeel. | This ultra-soft sheet set pairs perfectly with our Embossed Jacquard top of bed. This sheet set contains a fitted sheet, flat sheet, and two pillowcases. This sheet set features a luxurious silver embroidery on the hem of the flat sheet and pillowcases. | Crafted in soft, 300-thread count organic cotton, these Bloomingdale's Essentials sheets feature a subtle tonal dobby stripe design. |
| | | |
| --- | --- | --- |
| | | |
| Brielle Home Sateen Sheet Sets | Brielle Cotton Jersey Sheet Sets | Brielle Cotton Flannel Sheet Sets |
| Crafted from viscose from bamboo fiber, the Brielle sateen sheet sets from Zorlu feature smooth, breathable comfort that helps regulate the temperature regardless of season. 100% viscose. Machine wash | Bring all the comfort of your favorite t-shirt into your bed with the Brielle Cotton Jersey sheet set from Zorlu, featuring a variety of colors and prints to complement any room's decor. 100% cotton. Machine wash | Stay warm with the Brielle flannel sheet sets from Zorlu, featuring the soft, breathable comfort of cotton fabric. 100% cotton. Machine wash |
| | | |
| --- | --- | --- |
| | | |
| Matouk Diamond Pique Bedskirt | 680TC Bedskirts | Hudson Park Italian Percale Bedskirt |
| Crisp tailoring and split corners lend a sophisticated touch to this luxurious diamond piqué-textured bedskirt by Matouk. | Hudson Park Collection's bedskirts are designed with sumptuous, 680-thread count cotton sateen and a clean, architectural shape that anchors your bedding with refined versatility. | Italian Percale by Hudson Park. This collection is a simple and elegant cotton percale with double rows of satin stitching. In 300-thread count. Made in Italy. |
| | | |
| --- | --- | --- |
| | | |
| SFERRA Parello Sheets | SFERRA Casida Collection | Sferra Finna Sheets |
| Finished with an elegant hemstitch at the cuff of the flat sheet and pillowcases, SFERRA's Parello sheets are crafted in crisp, 200-thread count cotton percale. | SFERRA's Casida bedding collection is minimal and modern, creating an impact with its contrast color border in sateen appliqué along one side, and solid sateen on the reverse for multiple ways to style. | A double row of hemstitching along the cuff of the flat sheet and pillowcases lends a touch of elegance to these classic sheets by SFERRA, crafted in sumptuous 525-thread count Egyptian cotton percale |
| | | |
| --- | --- | --- |
| | | |
| Sferra Giotto Sateen Sheets | SFERRA Celeste Sheets | Sferra Grande Hotel Sheeting Collection |
| These luxurious, 610-thread count Egyptian cotton sateen sheets by SFERRA boast a luminous sheen and a rich drape. The pillowcases and flat sheet are finished with a crisp, classic hemstitched border | Crisp, clean and classic—these SFERRA Celeste sheets are woven from super soft Egyptian cotton and trimmed with an elegant hemstitch | SFERRA's Grande Hotel sheeting collection features a double row of tailored satin stitching along the border of the flat sheet, duvet cover and shams, crafted in soft and indulgent Egyptian cotton percale. |
| | | |
| --- | --- | --- |
| | | |
| Sferra Fiona Sheets | Capri Collection | Milos Sheets |
| Detailed with a simple, classic hemstitch, the Fiona sheeting collection is crafted from soft Egyptian cotton sateen in a range of rich, neutral colors. | This refined bedding collection in Egyptian cotton sateen features a striped jacquard inset border, finished with a delicate and precise hemstitch on either side. Framed with the woven jacquard and hemstitch. | Crafted from soft, Egyptian cotton sateen with a subtle sheen and finished with a classic hemstitch, the Milos collection adds an air of breezy sophistication to your bedroom. |
| | | |
| --- | --- | --- |
| | | |
| Frette Grace Sheet Set | Frette Francine Sheets | Frette Simply White Sheets |
| Classically elegant, this solid sheet set by Frette is crafted in luxurious, 600-thread count cotton sateen and finished with a shadow stitch on the cuff of the flat sheet and shams. | These latest forever pieces by Frette work in harmony to help you build the perfect bed. Enjoy the soft luxury of 295-thread count sateen for a wonderful night's rest. | Classic with a touch of luxury, Frette's Simply White sheets are rendered in soft, smooth 450-thread count cotton sateen. |
| | |
| --- | --- |
| | |
| Frette Hotel Classic Sheet Set | Frette Pioggia Embroidered Sheets |
| Created for the world's top hotels, this elegant and luxurious Egyptian cotton sheet set by Frette features a contrasting double row of embroidery along the border of the flat sheet and pillowcases. | Solid cotton sheets with a tonal embroidered stripe detail. 295-thread count. Embroidered sateen. Cotton. Machine wash |
| | | |
| --- | --- | --- |
| | | |
| Nouveau Quilted Bedding Collection | Hotel Collection Iridescence Coverlet, Sham | Hotel Collection Embroidered Frame Quilted Coverlet, Shams |
| This bedding ensemble by Hudson Park Collection is distinctly clean and elegant. Beautifully detailed with subtle geometric quilting, the super-soft coverlet and shams boast a lustrous finish that adds quiet sophistication to any bedroom. | Featuring a heat transfer printing technique and metallic yarns, this luxe bedding collection alludes to reflective waters and clouds with its subtle textures and colors. This glam look is complete with hand-beaded pillow accessories and a soft ripple-textured coverlet. | Put a picture-perfect finish on your bedroom's look and feel with the clean white tone and quilted geometric pattern of this luxe coverlet from Hotel Collection. |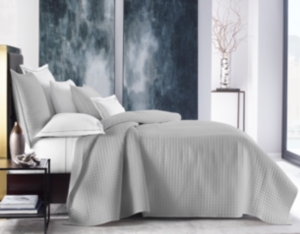 Hotel Collection Basic Grid Coverlet, Shams
Our Grid Coverlet is a versatile layering piece that provides additional warmth and comfort to any bedding collection. Inspired by modern interior design, the tonal grid quilting pattern will make your bedroom feel elevated and contemporary.
| | | |
| --- | --- | --- |
| | | |
| Hudson Park Collection Wool Blanket | Hotel Collection Egyptian Cotton Blanket | My Cotton Blanket |
| Crafted in luxe Australian Merino wool, this soft and cozy blanket by Hudson Park Collection can be layered with a duvet or coverlet for extra warmth. | Treat yourself to luxurious softness with the Egyptian Cotton blanket from Hotel Collection, featuring a detailed chevron pattern atop a solid ground. | Spun from pure cotton with a gentle textural weave, our soft, lightweight blanket is an every-day essential. Layer with a duvet during cooler months or over sheets in the summer for breathable comfort and classic style. |
| | | |
| --- | --- | --- |
| | | |
| Faux Fur Throw Collection | Down Alternative Asthma & Allergy Friendly Blanket | Hotel Grand Blanket |
| Soft and luxurious, Hudson Park's faux fur throws are a glamorous accent fit for any décor. | A timeless essential for your bedding collection, the My Down Alternative blanket provides excellent warmth with a down-like feel. 230 Thread count cotton sateen shell | This soft and breathable 100% cotton blanket features a pinwheel-hounds-tooth weave design. The lightweight breathable design makes this blanket perfect for year round use. |
Selecting Sheets
No matter how beautiful, if the sheets next to your skin don't comfort you, you won't be happy. Here are a few terms to help guide your choice:
Sateen finish. Depending on the brand, it may wrinkle, but this weaving technique gives cotton a smooth, silky, soft feel almost like satin.
Percale. Usually 100% cotton, it has a crisp feel.
Thread count. The number of threads horizontal and vertical in 1 square inch of fabric. The higher the count, the less space between so it feels softer, but the material is critical.
Types of cotton. Egyptian, grown in the Nile River Valley, is best because of the long, strong fibers. Pima or supima is from the American Southwest, has fibers almost as long so you may not be able to tell the difference.
Color. Sheets come in a wider choice of colors than ever before, but if you share a bed, be sure you discuss color. Many prefer white and cream because of the crisp, clean look. A little embroidery on the top sheet can add an extra touch of luxury.
Organic cotton. Cotton grown without the use of chemical fertilizers and pesticides.
Go to:
Add American-Luxury to your favorites