Stylish Kitchen Decor and Appliances
Kitchen decor for the modern American home. Stainless steel kitchen accessories are a favorite of gourmets. Sleek, clean and stylish accents for your kitchen. But whether you choose stainless or cheery, bright color, the right tools make the job easier, and the right decor helps the attitude. Show your personality through colors and designs that make it one of your favorite spaces and be a welcoming room for the whole the family. No matter your inspiration, make it your own. Whether you're planning the perfect galley kitchen in an apartment, or a gourmet kitchen that will be the center of your home and the foundation of your entertaining, we have the tools and accents that will make it happen. Go to: Cuisinart Kitchen Appliances, Hamilton Beach,
Colorful Kitchen Accents
| | | |
| --- | --- | --- |
| | | |
| Radish & Root Oven Mitt | Check Measuring Cups | Small Floradot Canister |
| Vegetable printed oven mitt with polka dot cuff and grommet detailing. Made of cotton. | Handcrafted measuring cups with check imprinted handles. Set includes: 1/4 cup, 1/3 cup, 1/2 cup, and 1 cup capacity cups. Made of 18/8 stainless steel. | Lidded canister made of ceramic. Approx. 5"Dia. x 8"T. |
| | | |
| --- | --- | --- |
| | | |
| Coyuchi Sonoma Textured Organic Napkin Set of 12 | Coyuchi Organic Waffle Kitchen Towel Set of 6 | Coyuchi Mojave Organic Linen Kitchen Towel Set of 2 |
| Pair your farm to table fare with durable organic cotton napkins that fit in at any gathering. Variations in yarn size create a crinkled texture, with yarn-dyed color that maintains its hue through years of wash and wear. | The first time you wash these towels, something magical happens: the smooth basket weave puckers into a waffle texture that offers more surface area per square inch, drinking in water like no flat woven towel can. Loomed from yarn-dyed organic cotton crossed with white, they have soft color that endures through hard work and frequent laundering. There is a slight color variation with each dye lot, but rest assured it is GOTS certified finishing so there's no change in product performance. | Inspired by a vintage Peruvian textile, the yarn-dyed stripes in our Mojave kitchen towels move between cool, warm, and neutral colors, with gray warp fibers that add nuanced tonality. The towels are made from organic linen that has been garment washed for a lived in feel and a relaxed look. A classic fiber for the kitchen, linen is soft, durable, highly absorbent, and won't streak glassware. |
| | | |
| --- | --- | --- |
| | | |
| Stoneware Pie Dish | Large Floradot Canister | Market Dishcloths, Set of 4 |
| Pie season is upon us, so serve up a family favorite with this lovely ceramic dish that's oven, microwave, and dishwasher safe. | Lidded canister made of ceramic. Approx. 5"Dia. | Fit with a convenient cotton bag, these textured dishcloths are a charming and eco-friendly addition to any kitchen. |
| | | |
| --- | --- | --- |
| | | |
| Mug Storage Tree | Vera Perennial Dish Towel | Material Trio of Knives |
| Store mugs + more on this standing rack, featuring a trio of dowel arms set on a round base. Keeps your mugs on display in just the right place. | Designed by Vera in collaboration with Anthropologie, this dish towel welcomes springtime to your kitchen endeavors. Better yet? It's a thoughtful gift for the culinary aficionado or at-home baker. | The only three knives you need - The 8" Knife, The Serrated 6" Knife, and The Almost 4" Knife. Hand-finished with a stain-resistant matte handle, all are crafted from three layers of Japanese stainless steel and high carbon for superior strength, resilience to corrosion, and razor sharp performance that practically does all the cutting, slicing, and dicing for you. |
| | | |
| --- | --- | --- |
| | | |
| Nathalie Lete Helena Apron | Emma Kitchen Collection | Orion Dish Towels, Set of 2 |
| Featuring a blooming field of flowers, this apron was designed by Nathalie Lete in collaboration with Anthropologie. | This collection features ceramic construction with a resist-glaze finish and flower motifs stamped all-over. | A handy addition to any kitchen, dish towels are perfect for drying plates, surfaces, and your hands. Even better? With a lunar design, this set doubles as a whimsical decor accent, too. |
| | | |
| --- | --- | --- |
| | | |
| Isadora Colander | Sun Oven Mitt | Isadora Utensil Holder |
| Ceramic colander perfect for washing off berries, featuring a round basin topped with circle side handles mimicking the perforated construction with a modern take on a boho-cool look. | Whether you're baking up a full meal or a tasty dessert, this oven mitt lends a sunny touch to the process. Made from a quilted cotton with a slit-opening back for easy handling, topped with a hanging loop and featuring a sunshine design at the front. | Keep your cooking tools nearby in this ceramic utensil holder featuring a geometric build topped with mini wrapped side handles for a boho-cool look we love. |
| | | |
| --- | --- | --- |
| | | |
| Dagny Kitchen Collection | Briony Floral Dish Towel | Zen Lines Casserole Dish |
| With beautifully hand-painted botanicals, this earthenware collection brings charm to special occasions, yet is simple enough for everyday meals. Hand-painted stoneware. Dishwasher and microwave safe | Featuring delightful dancing florals, this dish towel brightens up any kitchen. | Ceramic casserole dish, perfect for baking mac 'n' cheese, cobbler and everything in between, with a serene boho-inspired design we love. Colorblocked finish is accented with wavy linear accents engraved across the side, complete with side handles |
| | | |
| --- | --- | --- |
| | | |
| Canyon Ceramic Canister | Peyton Dish Towel | Market Dishcloths, Set of 4 |
| Vintage-inspired ceramic canister with all over floral details and a bohemian feel that lends an inviting look to your kitchen space. Lidded design with side handles is perfect for holding teas, snacks, grains and more. | With delicate fringe and a subtly textured weave, this dish towel is an essential for any kitchen. | Fit with a convenient cotton bag, these textured dishcloths are a charming and eco-friendly addition to any kitchen. |
| | | |
| --- | --- | --- |
| | | |
| Love Is Served | Dylan Cutting Board | Everyday Fresh |
| Inspired by Los Angeles dining fixture Cafe Gratitude, this cookbook features bright, clean recipes that will enchant vegans, vegetarians, and omnivores alike. | Rustic mango wood cutting board in a spectrum of hues and sizes to suit your space perfectly. Use it for food prep and serving up tasty treats with boho-cool style. Features a top handle for easy carrying and storage. | Ideal for those looking to explore a healthier lifestyle, this delectable cookbook from Australian author Donna Hay takes readers through her favorite super-fast, super-fresh, and super-nourishing meals. Hardcover 224 pages. 4th Estate |
| | | |
| --- | --- | --- |
| | | |
| kate spade new york Utensil Crock with 3 Wooden Utensils | Martha Stewart Collection Cutting Boards, Set of 3 | Cat Spoon |
| Bring a charming touch to your countertop with kate spade new york's polka dot utensil crock, filled with three versatile wood tools. | Natural materials not only lend a charming, rustic air to your countertop, they're also easy on knife edges. These cultured cutting boards are finely crafted from natural long-grain bamboo -- both lightweight and exceptionally tough -- for perfect prep and protection. | Ceramic spoon shaped like a happy little cat in a speckle glaze with painted details and contrasting handle complete with perforation for easy hanging. |
| | | |
| --- | --- | --- |
| | | |
| Parchment Check Tea Kettle | Parchment Check Canisters | Parchment Check Utensil Holder |
| Handcrafted tea kettle. Heavy-gauge steel underbody rimmed in bronzed stainless steel. Hand painted with checks and ceramic glaze. Wood handle; amber-colored glass knob; brass hardware. | Handcrafted canister. Heavy-gauge steel underbody rimmed in bronzed stainless steel. Hand painted with checks and ceramic glaze. Amber-colored glass knob; brass hardware. | This extra-tall utensil holder is the perfect container for everything from slotted spoons by the stove to barbecue tools by the grill. |
| | | |
| --- | --- | --- |
| | | |
| Pyrex 6-Pc. Storage Set with Wood Lids | Martha Stewart Collection 12-Pc. Glass Storage Set | Parchment Check Cookie Jar |
| Add warmth and style to dry food storage with this stackable 6-piece set of Pyrex clear glass dishes paired with natural acacia wood lids. | Leakproof, airtight seals guarantee freshness and endless usage. These sophisticated glass containers have the versatility of being used in the microwave, freezer or cupboard. Convenient clips are a cinch to open and the plastic lids make stacking and compact storage an attractive option. Set includes six tempered glass containers paired with leak-resistant lids. | Handcrafted cookie jar. Enameled 12-gauge steel and glass. Hand-painted color-dragged checks blending parchment, taupe, and golden lustre with a touch of aqua. |
| | | |
| --- | --- | --- |
| | | |
| Cuisinart Cfp-8BK 8-Cup Food Processor | Cuisinart Gr-150 Electric Griddler Deluxe | Cuisinart Ss-10 Premium Single-Serve Brewer |
| An 8-cup capacity allows room for big batches in this Cuisinart food processor. It features intuitive controls plus discs that let you slice, shred, chop, mix and more. | Your kitchen simplified. A large cooking surface & six functions—from grill to panini press to top melt to half griddle—tackle even more meals. The nonstick plates and dual-zone temperature controls offer a versatility & ease that quickly makes this gadget your go-to. | Fully programmable with adjustable brew strength and temperature, this Cuisinart coffee maker gives you single-serve convenience. The K-Cup compatible system has a choice of five cup sizes, from a 4-oz. espresso to a travel-mug-ready 12 oz. A HomeBarista re-usable filter cup is included to let you create custom blends. |
| | |
| --- | --- |
| | |
| Cuisinart Air Fryer Toaster Oven | Cuisinart Custom 14 Food Processor |
| Able to air fry, convection bake, convection broil, warm and toast, this all-in-one design offers a 60-minute timer, auto shut off and a non-stick, easy-clean interior-it can even bake a four-pound chicken. | This large-capacity, easy-to-use workhorse will speed up your cooking whether you're preparing everyday dinner or a dinner party for six. Model DFP-14. Manufacturer's 5-year motor warranty. |
| | | |
| --- | --- | --- |
| | | |
| Cuisinart Ice Cream and Gelato Maker | Cuisinart Belgian Waffle Maker with Pancake Plates | Cuisinart Bread Maker |
| Ice cream dreams come true! Equipped with two unique mixing paddles, this cool essential makes your favorite ice cream or gelato right at home. A 60-minute timer and super-powerful motor take the guesswork and hassle out of dessert time. | Cuisinart's heavy-duty device lets you create perfectly delicious, fluffy waffles and pancakes at home. | Bread doesn't get any fresher or easier than this. This stainless steel convection bread maker has 16 preprogrammed menu options, 3 crust colors and 3 loaf sizes for more than 100 customized creations. It automatically adjusts speed and timing, and circulates air while baking. In brushed stainless steel. |
| | | |
| --- | --- | --- |
| | | |
| Cuisinart SmartPower 7-Speed Blender | Cuisinart Dlc-8SBCY Pro Custom 11 11 Cup Food Processor | Cuisinart Velocity Ultra Trio 1 Hp Blender/Food Processor with Travel Cups |
| A combination of performance and style, this 7-speed blender makes a sharp statement in the kitchen. Powered by a 500-watt motor, it crushes ice at any speed. One-touch functions include mix, blend, puree and chop. The count-up timer lets you know exactly how long you've been blending so you can work with even the most demanding recipes. Model Spb-7. | Step up your prep. Master every step of the recipe with this multi-tasking professional, which features a spacious 11-cup work bowl, an extra large feed tube that tackles whole fruits & veggies, enough power to knead bread and dough with ease and so much more. Two slicing discs, a shredding disc, and a mixing blade/dough blade equip this favorite with real versatility. | Includes 1 HP blender, 3-cup food processor attachment and two 16 oz. travel cups. High-performance 1 horsepower motor. 56 oz. BPA-free blender jar. Low, High, Pulse controls; pre-programmed Smoothie and Ice Crush functions. 3-cup food processor attachment with feed tube and pusher, slicer/shredder disc and stainless steel chopper blade |
| | | |
| --- | --- | --- |
| | | |
| Cuisinart Power Advantage Plus 9-Speed Hand Mixer | Cuisinart Compact Deep Fryer | Cuisinart PerfecTemp Cordless Electric Kettle |
| Whip up cake batter, dough and more with Cuisinart's smartly designed hand mixer. | Fast heat-up and frying. Nonstick die-cast bowl with attached heating element for superior heating. Removable charcoal filter. Adjustable thermostat up to 375° | Create a civilizing moment of peace with your favorite tea and this electric kettle. Loaded with superior functionality and modern design, it has six preset temperatures for different varieties of tea. With 1500 watts of power, it quickly heats water to the correct temperature and keeps it there for 30 minutes |
| | | |
| --- | --- | --- |
| | | |
| Hamilton Beach Premium Big Mouth 2-Speed Juice Extractor a> | Hamilton Beach Professional Blender | Hamilton Beach Easy Reach Toaster Oven |
| A large chute and powerful motor mean less prep work with the Premium Big Mouth® juice extractor from Hamilton Beach®. Process fruits and veggies at two speeds into a 40-oz. pitcher with a froth separator for a smooth drink. | Bring professional power to your kitchen with this Hamilton Beach® blender, 1800 watts with the strength to crush ice and the speed to whip cream. It includes programs for common tasks plus a speed dial that puts you in control. | Bake a pizza or a small casserole without heating up the kitchen with this Hamilton Beach® toaster oven, featuring an Easy Reach® roll top that helps eliminate mess and saves counter space. Toast, broil and bake functions give you versatility. |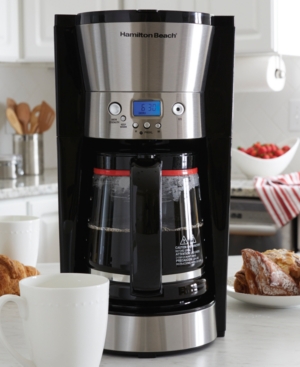 Hamilton Beach Programmable Coffee Maker
Choose a mellow light roast or a robust bold, brewed at the perfect temperature with this programmable coffee maker from Hamilton Beach®. A cone-shaped filter improves extraction for optimal flavor.
Go to:
Add American-Luxury to your favorites