Modern Lighting by the Masters
Lighting should help you set the mood no matter which room you're decorating. Putting all lights on dinners gives you the option of selecting the right brightness for each setting. Modern lighting by American masters. Go to: Chandeliers, Modern Pendant Lighting, Table Lamps, Ceiling Fixtures, Amber Lewis for Anthropologie
| | | |
| --- | --- | --- |
| | | |
| Resin Table Lamp | Tansey Table Lamp | Acrylic Table Lamp |
| Handcrafted table lamp with oval hardback. White cotton shade with golden pony skin liner. Made of resin and marble with rolled edge | Lamp offers modern to transitional shape and color. Handcrafted of ceramic. Approx. 16"L x 16"W x 30"T | Handcrafted table lamp with rectangular hardback and white linen shade. Made of acrylic with single trim |
| | | |
| --- | --- | --- |
| | | |
| White Marble Table Lamp | Emilia Table Lamp | Canaan Table Lamp |
| Handcrafted table lamp made of natural white marble with gold foil accents. Rectangular crystal base and crystal finial. Linen shade dimensions: 16"W x 9"D x 9.5"T. Overall: 16"W x 9"D x 29.5"T. | Featuring a hand-blown glass base and a crisp linen shade, this table lamp adds a touch of glamour anywhere you place it. | Marble table lamp with steel hardware. Shade dimensions: 16"Sq. (15.5" at top) x 11"T. Overall: 16"Sq. x 30"T. |
| | | |
| --- | --- | --- |
| | | |
| Currents Lamp | Ophelia Table Lamp | Indigo Glass Table Lamp |
| Handcrafted lamp made of brass clad on mango wooden substructure. Brussel linen covered oblong oval hardback laminate shade. Marble base with brass ball feet. Linen fabric cord. | Brass, iron. Cotton shade included. Includes matching harp and finial | Table lamp with two-tone glass base. |
| | | |
| --- | --- | --- |
| | | |
| Crinkle Swoosh Lamp | Medallions Table Lamp | Ribbon Table Lamp |
| Handcrafted table lamp features heavy crinkle pattern that creates a swoosh form. Oat linen rectangular shade with white cotton interior. Made of brass with marble base. | Handcrafted lamp features textured, ornamental, hanging medallions with marble base. Made of antique brass or antique silver. Off-white linen shade on outside and white cotton on reverse. | Handcrafted table lamp features ribbons of polished nickel or brass with marble base. Round linen shade with white cotton interior. |
| | | |
| --- | --- | --- |
| | | |
| Floral Table Lamp | Winslow Table Lamp | Burke Lamp |
| Handcrafted table lamp features floating watery florals in blues and greens. Encased in a clear resin lamp body upon a clear base. Made of metal and acrylic | Table lamp covered in an assorted of natural ox hair hide (India). Wood composite and steel frame. Overall: 18"Dia. x 33"T. Uses one medium base E26 150-watt bulb. 3-way switch. | Table lamp made of resin. |
| | | |
| --- | --- | --- |
| | | |
| Ripple Table Lamp | Silver Moso Table Lamp | Michaela Small Table Lamp |
| Table lamp with glass base. Uses one 150-watt bulb. Three-way switch. Approx. 24.5"H x 14"W x 14"D. | Table lamp features soft golden trim and top diffuser. Made of metal and crystal with black linen shade | Handcrafted lamp is made of iron with alabaster accent and linen shade. Designed exclusively by Ralph Lauren for Visual Comfort. |
A lifelong Californian, Amber Lewis is a pioneer in eclectic, laidback interiors synonymous with the Golden State's carefree lifestyle. For her first collaboration with Anthropologie, Lewis brings her expertise in textile outfitting and layered materials to explore muted tones and natural textures - think oak wood, leather, woven fabrics, and raw ceramics - for a look that is both cozy and contemporary. The result? A collection imbued with undeniable soul and livability.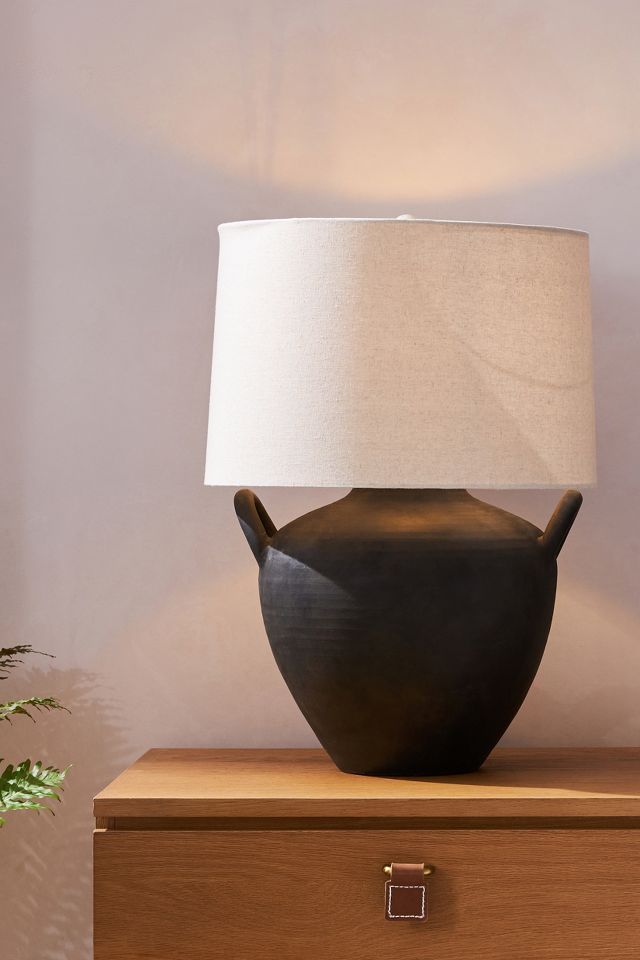 Amber Lewis for Anthropologie Marana Table Lamp
Designed by Amber Lewis in collaboration with Anthropologie, this ceramic table lamp features an antique milk jug-inspired silhouette - from its bulbous shape to its sweetly looped decorative handles. Finished with a linen shade, it adds eclectic charm to any end table or desk.
More than lighting, these modern designs are illuminated works of art.
| | | |
| --- | --- | --- |
| | | |
| Squares Chandelier | Camden Lantern | Beckham 24-Light Chandelier |
| Handcrafted chandelier of interlocking squares. Silver or gold in antiqued brass finish. | Steel caged lighting pendant with glass walls. Approx. 16.25"Sq. x 26.25"T. | Steel frame chandelier. Designed exclusively by Thomas O'Brien for Generation Lighting. Uses 24 candelabra torpedo 40-watt bulbs. Overall: 29"Dia. x 30.3"T. |
| | | |
| --- | --- | --- |
| | | |
| Alberto Chandelier | Oahu Fringe Pendant | Quill Feather Chandelier |
| Featuring a sculptural leaf design, this chandelier lends a rich accent to a natural decor story. | A brushed brass frame drips with island-inspired fringe, giving your room a lively - yet relaxing - update. | Exuding an antique-inspired appeal, this chandelier beautifully illuminates grand foyers, dining rooms, and everything in between. |
| | | |
| --- | --- | --- |
| | | |
| Cloud Chandelier | Pierced Leaf Chandelier | Tanner Chandelier |
| Organically shaped, marbled glass globes on a slim, champagne-finished frame create a fixture that feels as ethereal as cloud formations in the sky. | For a living room or main bedroom ceiling, opt for an eye-catching statement piece, such as this brass leaf chandelier. | Glass globes resting on a contemporary wood beam structure create a chandelier design that is centerpiece-worthy for a dining room, living room, or hall. |
| | | |
| --- | --- | --- |
| | | |
| Crystal Flushmount | Gatsby Flush Mount | Aretha Flush Mount |
| Handcrafted ceiling fixture. Features tapered, faceted crystal bars. Painted steel accents. Approx. 18"Dia. x 8.5"T. | Combining Art Deco influences with a modern sentiment, this flush mount provides an artful touch with its brass accents and sleek lines. | For a contemporary home, this flush mount exudes modern elegance with its five angular arms topped with frosted glass disc shades. |
| | | |
| --- | --- | --- |
| | | |
| Cloud Flush Mount | Willow Leaf Flush Mount | Franz Flush Mount |
| Organically shaped, marbled glass globes on a slim, champagne brass-finished frame create a fixture that feels as ethereal as cloud formations in the sky. | Metal wire with sheet metal leaves; gold leaf finish. Adjustable hanging height | Modern and classic at once, this fixture adds a touch of glamour to your space with a mirrored backplate that reflects the light of its bulbs. |
| | | |
| --- | --- | --- |
| | | |
| Tanner Globe Flush Mount | Margie Flush Mount | Pirouette Flush Mount |
| Brass, textural wood elements, and smooth glass globes combine to make a beautifully eye-catching flush mount. | Featuring an oblate spherical shape and modern-meets-nautical feel, this flush mount is a perfect lighting statement for a bathroom vanity. | Named after a ballerina's pirouette, a graceful spinning motion that mimics the look of this fixture's subtle swirled glass globes, this flush mount lends beauty from its glimmering metal and wood materials and balanced structure. |
| | |
| --- | --- |
| | |
| Twiggy Flush Mount | Madelyn Faceted Flush Mount |
| For a covered porch or foyer wall, opt for a sculptural showstopper, like this flush mount from our high-flying Twiggy collection. With a cage-inspired frame and a resin bird perched on an array of glass bulbs, it offers a fanciful display that's sure to draw attention anywhere in your home. | Featuring a double layer of handcrafted capiz shells exuding a pearl-like luster, this flush mount offers a sophisticated lighting touch for an interior. |
| | | |
| --- | --- | --- |
| | | |
| McKenzie Iridescent Flush Mount | Meghan Leather Flush Mount | Pearl LED Flush Mount |
| Featuring sculptural iridescent glass with a champagne brass-finished base, this flush mount is a stylish choice for modern ceiling lighting. | A fan-inspired design crafted of tanned leather and blackened iron creates an eye-catching flush mount fit for a modern or contemporary home. | A sweet addition to a bathroom, kitchen, or hallway, this retro daisy flush mount brings a mod touch to any space. |
| | | |
| --- | --- | --- |
| | | |
| Renata Pendant | Delfina Pendant | Lora Pendant |
| Designed with the spirit and nature of Argentina as inspiration, the natural wood grain is visible through the finish of this pendant, incorporating a modern, yet natural, element to any room. | Designed with the spirit and nature of Argentina as inspiration, the natural wood grain is visible through the finish of this lamp shade, incorporating a modern, yet natural, element to any room. | Designed with the spirit and nature of Argentina as inspiration, the natural wood grain is visible through the finish of this lamp shade, incorporating a modern, yet natural, element to any room. |
| | | |
| --- | --- | --- |
| | | |
| Linear Pendant | Brass Drop Pendant | Ammi Pendant |
| An exploration of linear design, this pendant makes a striking style statement especially over a dining room table or kitchen counter. | Featuring nine glimmering brass pendants that drop down from a white steel canopy, this all-in-one piece illuminates spaces both grand or small. | Damp-rated for installation in bathrooms, covered outdoor spaces, or other high-condensation areas. White milk glass, brass |
| | |
| --- | --- |
| | |
| 6-Light Selenite Drop Light Pendant | Gatsby Pendant |
| This drop light chandelier features six lights and one-of-a-kind, organic selenite panes hanging at varying heights. The panes are individually mounted, and they are illuminated with recessed lighting from above. Made of iron/stainless steel/crystal. | Combining Art Deco influences with a modern sentiment, this pendant provides an artful touch with its brass accents and sleek lines. |
| | | |
| --- | --- | --- |
| | | |
| Amber Pendant | Lola Glass Pendant | Oahu Fringe Pendant |
| Reflecting and refracting light, this pendant brings a welcome shimmer to a contemporary interior. | Bathroom-rated. Glass, iron with brushed brass finish | A brushed brass frame drips with island-inspired fringe, giving your room a lively - yet relaxing - update. |
| | | |
| --- | --- | --- |
| | | |
| Rara Pendant | Stevie Pendant | Japhy Raffia Pendant |
| Handcrafted with textured jute and white cotton tassels, this charming pendant light lends a causal elegance to any space. | Featuring a handcrafted ceramic shade with a speckled glaze finish, this pendant lends an artisanal touch to a bathroom, bedroom, or hall. | Hand woven from raffia, this pendant lends an organic accent that's perfect for an airy, light-filled kitchen, dining room, or bedroom. |
Go to:
Add American-Luxury to your favorites